EUR/USD alternates gains with losses near the 1.1750 area.
The German Business Climate eased a tad in August.
US Durable Goods Orders will take centre stage in the NA docket.
The upside momentum in the single currency seems to be taking a breather, with EUR/USD now struggling to extend the recovery further.
EUR/USD looks to USD, data, Jackson Hole
EUR/USD struggles to maintain the uptrend well and sound after posting gains in the last three sessions, including the rebound from last week's new 2021 lows in the 1.1660 region.
A mild recovery in the greenback, month-end flows and some weakness in the risk complex all collaborate with the inconclusive price action around spot on Wednesday.
The domestic docket is not supportive of the euro either after the German Business Climate gauged by the IFO missed expectations in August at 99.4 (from July's 100.7). The results from the IFO survey add to the recent knee-jerk in PMIs in the core Euroland, noting some loss of momentum in the economic recovery and even the likelihood that a peak has been reached in previous months.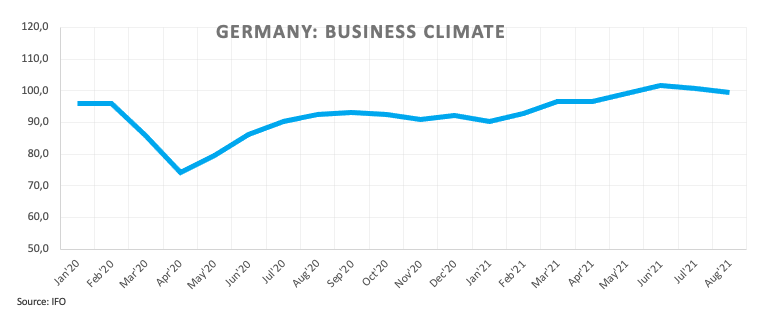 In the US data space, weekly Mortgage Applications come up in the first turn seconded by the more relevant Durable Goods Orders and the EIA's report on crude oil stockpiles.
What to look for around EUR
The recovery in EUR/USD seems to have met initial and quite moderate hurdle in the 1.1760 zone for the time being. The recent leg lower in the pair comes after another rejection from the 1.1880/1.1900 band and follows the solid march of the dollar, which remains mainly propped up by tapering/interest rates speculation. On the euro side of the equation, the re-affirmed dovish stance from the ECB (as per its latest meeting) is expected to keep spot under pressure despite auspicious results from key fundamentals and the persistent high morale in the region.
Key events in the euro area this week: German IFO (Wednesday) – German GfK Consumer Confidence, ECB Accounts (Thursday).
Eminent issues on the back boiler: Asymmetric economic recovery in the region. Sustainability of the pick-up in inflation figures. Progress of the Delta variant of the coronavirus and pace of the vaccination campaign. Probable political effervescence around the EU Recovery Fund. German elections in September could bring some political effervescence to the scenario. Investors' shift to European equities in the wake of the pandemic could lend extra oxygen to the single currency.
EUR/USD levels to watch
So far, spot is losing 0.01% at 1.1752 and a breakdown of 1.1663 (2021 low Aug.20) would target 1.1612 (monthly low Oct.20 2020) en route to 1.1602 (monthly low Nov.4 2020). On the upside, the next resistance is located at 1.1804 (weekly high Aug.13) followed by 1.1817 (50-day SMA) and finally 1.1908 (monthly high Jul.30).
AUD/USD snaps two consecutive days of the winning streak as the pair has stalled at the 0.7250 level. The aussie needs to pierce the 0.7300/20 region to see a trend change, according to economists at OCBC Bank.
See: AUD/USD to plunge towards the 0.70 mark in the near-term – Westpac
Aussie stalls its recent correction higher
"Supported by the commodity rebound, AUD/USD extended further on Tuesday. However, the squeeze higher appeared to fizzle out by early Wednesday, with the pair turning lower below 0.7250." 
"A clearer reversal will need the pair to breach 0.7300/20 levels at least, which may be a bridge too far for now."
The EUR/USD pair is contained at the 1.1750 area. Subsequently, economists at OCBC bank still see the recent race higher as a correction rather than a trend change.
See – EUR/USD: Year-end forecast stands at 1.18 – ABN Amro
Downside still intact while below the 1.1800 level
"EUR/USD failed to make clear headways from the 1.1750 zone, leaving the downtrend still intact."
"The pair will need to clear the 1.1800 zone to reverse downside bias."
"We continue to view the bounce as a correction rather than a trend change."
According to Axel Rudolph, Senior FICC Technical Analyst at Commerzbank, the USD/CNH pair is set to remain below 6.5292 and again targets support at 6.4502/6.4450 below which lies 6.4024/03.
See: USD/CNY to see substantial gains towards 6.70 by year-end – ING
Resistance comes in between the early July high at 6.5008 and the recent high at 6.5111
"USD/CNH's recent attempt to reach the 6.5292 July high has been thwarted at its current August high at 6.5111 with the 6.4502/6.4461 support area being back in sight. It consists of the late June and July lows. Failure there would make us bearish and target the February and early May lows at 6.4024/03. Below this area lies the May trough at 6.3524. 
"Resistance now comes in between the early July high at 6.5008 and the recent high at 6.5111 and also at the July peak at 6.5292." 
"Only a currently unexpected rise and daily chart close above the 6.5292 high would lead to the 78.6% Fibonacci retracement at 6.5374 being targeted. Above the latter the December and early March highs can be spotted at 6.5535/6.5635 and the March and April peaks at 6.5862/78."
Following the release of the German IFO Business Survey, the institute's Economist Klaus Wohlrabe said that "70% of industrial businesses complain about supply chain bottlenecks."
Additional quotes
Also trade index has fallen, traders were less satisfied with their current business.

Export expectations have fallen but remain at a relatively good level.

Two thirds of companies in both manufacturing and retail sectors want higher prices to cover rising costs.

Rising covid-19 infections have dampened expectations in tourism and hospitality.
Esto es lo que necesita saber para operar hoy miércoles 25 de agosto:
Los mercados se han enfriado anteriormente el miércoles después de otro día alegre el martes. Los inversores están contentos con el avance de un proyecto de ley de gastos de infraestructura, los datos de pedidos de bienes duraderos para julio y las noticias sobre el covid. La Fed se abstiene de dar pistas sobre el tapering.
No hubo cambio de martes: Los inversores se mantuvieron optimistas el martes, empujando el dólar de refugio seguro a la baja. La fuerte demanda de una subasta de bonos del Tesoro a 2 años fue vista como una señal de que cualquier reducción del programa de compra de bonos de la Reserva Federal es poco probable que termine en una subida inmediata de tasas.
Tapering: Después de que la Fed anunciara que celebraría su Simposio de Jackson Hole on-line debido a la propagación del virus, se espera que el presidente Jerome Powell se abstenga de insinuar la reducción del programa de compra del banco central de 120.000 millones de dólares al mes. Powell habla el viernes.
Coronavirus en Estados Unidos: Algunos participantes del mercado también se contentan con cierta moderación en el aumento de los casos de COVID-19. Las infecciones diarias han superado las 150.000, pero la propagación se ha ralentizado y el ritmo de vacunación ha repuntado. Unas 860.000 personas recibieron una dosis de vacuna cada día, frente a aproximadamente 500.000 a principios del verano.
El dólar se ha estado recuperando a primera hora del miércoles en lo que parece una toma de ganancias y un posicionamiento antes de la publicación de los datos de pedidos de bienes duraderos para julio. Se espera que los pedidos principales bajen, mientras que se espera que los pedidos subyacentes se muevan al alza. Las estimaciones podrían ser demasiado bajas.
Infraestructura: La Cámara de Representantes adelanta el proyecto de ley de gastos de 3.5 billones de dólares respaldado por los demócratas, superando las diferencias entre moderados y liberales en el partido gobernante. El enfoque ahora se centra en el Senado.
El EUR//USD cotiza por debajo de 1.1750, por debajo de los máximos y antes de la publicación alemana del clima empresarial de IFO. Una disminución moderada está sobre la mesa.
El GBP/USD está por encima de 1.37, pero por debajo del máximo a medida que el foco está en los casos de covid del Reino Unido.
El oro ha caído por debajo de los 1.800$, devolviendo sus ganancias a pesar de los rendimientos estables de los bonos a 10 años. Parece que los alcistas están retirando beneficios.
Las criptomonedas se han estabilizado después de caerse de los máximos. El Bitcoin está rondando los 48.000$ y el Ethereum se aferra a 3.200$.
This week's risk rally looks to be fading as we close in on the Jackson Hole event. EUR/USD is trading below 1.1750, off the highs and ahead of the German IFO Business Climate release. A moderate decrease is on the cards but the pair should stay above the 1.17 level, according to economists at ING. 
See – EUR/USD: Year-end forecast stands at 1.18 – ABN Amro
When will German elections start to play a role?
"EUR/USD looks to be stalling near the 1.1750 area and we do not see a big catalyst for further gains. One wild card is the result of the upcoming German elections. With the SPD nudging ahead in the polls could we see expectations of looser fiscal policy drive European yields and the euro higher?"
"For today, the focus will be on the German August IFO. German manufacturers continue to struggle with supply chain challenges and the IFO expectations component is expected to correct to 100 from 101.2. Any larger than expected drop here could marginally weigh on EUR/USD, though 1.1700 support should hold in quiet markets."