WTI barely advances, courtesy of the OPEC+ which lowered its estimates for the rest of 2021.
The US Dollar Index is down, bracing to 94.00.
As US stock indexes rise, the market sentiment is upbeat towards the end of the New York session.
Western Texas Intermediate (WTI) US crude oil benchmark barely advances 0.05%, is trading at $79.94 during the New York session at the time of writing. The market sentiment has improved through the American session, as depicted by US equity indexes rising between 0.01% and 0.65%. Meanwhile, the US Dollar Index, which influences the price of crude oil, is declining 0.51%, clinging to 94.00
WTI sluggish advance on Wednesday lies on the back of the OPEC+, which revised lower its estimate for 2021 global oil consumption in its monthly report. Furthermore, the group added that the spike in natural gas prices could boost crude oil use like power generation, but it could curb the demand in other areas such as refining.
Oil has surged due to the rebound in activity from the pandemic, which has increased consumption, depleting inventories. Also, shortages in natural gas and coal have driven demand for the so-called black gold.
WTI Price Forecast: Technical outlook
Daily chart
WTI is trading around the week tops but retreated under $80.00, testing the close of Tuesday's price action. The daily moving averages are located below the price, indicating that crude oil is in an uptrend. Momentum indicators like the Relative Strength Index (RSI) above 70, in oversold levels, means that WTI could be headed for a correction lower before resuming the upward bias.
In case of a WTI's correction lower, the first demand zone would be the October 6 high at $79.53. A breach of the latter, WTI could tumble towards the October 7 low at $76.60.
On the flip side, a daily close above $80.00 indicates that oil prices might be headed for consolidation, awaiting for RSI to exit oversold levels before resuming the uptrend.
KEY ADDITIONAL LEVELS TO WATCH
El rebote del Kiwi desde 0.6910 se estanca por debajo del área de resistencia de 0.6970/80.
El dólar pierde terreno con el aplanamiento de la curva de rendimiento estadounidense.
Las Minutas del FOMC confirman la reducción gradual de la QE antes de fin de año.
El NZD se ha recuperado desde los mínimos de la sesión en 0.6910 el miércoles para borrar las pérdidas del martes, favorecido por un dólar estadounidense algo más débil. Sin embargo, el par se ha estancado por debajo del techo del rango de negociación de la semana pasada en 0.6970/80.
El USD desciende mientras la curva de rendimiento de EE.UU. se aplana
El kiwi se ha visto favorecido por una debilidad moderada del dólar estadounidense el miércoles con la curva de rendimiento aplanada de Estados Unidos que pesa sobre el dólar estadounidense. El rendimiento del bono del Tesoro estadounidense a 10 años cayó a 1.54% el miércoles desde máximos de 5 meses en 1.61% el martes, mientras que el rendimiento a 2 años subió a máximos de 18 meses.
El calendario económico no ha podido ofrecer soporte al dólar. Las Minutas de la reunión de septiembre de la Reserva Federal han respaldado la idea de que la reducción gradual de la QE podría anunciarse oficialmente el próximo mes, indicando que "un proceso de reducción gradual que concluya a mediados del próximo año probablemente sería apropiado".
Más allá de eso, algunos participantes han reconocido que las presiones inflacionarias podrían permanecer por un período más largo de lo esperado y han sugerido la posibilidad de comenzar a subir las tasas de interés a fines del próximo año.
Anteriormente, el IPC de EE.UU. confirmó las expectativas del mercado de que la alta inflación sigue acechando sobre la recuperación posterior a la pandemia, lo que cuestiona la teoría de la inflación "temporal" de Fed Powell. Los precios al consumidor se aceleraron a un ritmo mensual del 0.4% en septiembre, desde el 0.3% en agosto, y la inflación anual aumentó al 5.4% desde el 5.3% del mes anterior.
Niveles técnicos 
What you need to know on  Thursday, October 14:
The dollar sold-off on Wednesday dragged lower by falling US Treasury yields. The market mood was dismal throughout most of the day, with Asian indexes closing in the red after a mixed Chinese Trade Balance, which posted a surplus off $66.76 billion, much better than anticipated. Exports were sharply up, although imports contracted.
Yields were weaker ever since the day started, but accelerated their slump following the release of US inflation data. The September Consumer Price Index was upwardly revised to 5.4% YoY from a previous estimate of 5.3%,  while the core annual reading was confirmed at 4%.
The US Federal Reserve published the Minutes of its latest meeting. As expected, the document showed that policymakers are ready to kick-start tapering, a gradual reduction in the pace of asset purchases, aiming to end it in mid-2022.
Wall Street once again struggled to advance, with the three majors indexes closing mixed around their opening levels. JP Morgan announced upbeat third-quarter earnings, reporting profits of $11.7 billion.
The EU announced a series of proposals that would reduce the burden on Irish Sea trade created by Brexit's Northern Ireland Protocol. Meanwhile, BOE's Governor Andrew Bailey reiterated his hawkish message.
The EUR/USD pair trades near the 1.1600 figures near fresh weekly highs, while GBP/USD hovers around 1.3660. Commodity-linked currencies resumed their advances with USD/CAD trading at 1.2430 a fresh multi-month low, and the AUD/USD approaching 0.7400 ahead of the release of Australian employment figures.
Gold benefited the most from the broad dollar's weakness, now trading at $1,791 a troy ounce. Crude oil prices remain steady, with WTI at around $80.50 a barrel.
Top 3 Price Prediction Bitcoin Ethereum Ripple: Crypto market bound for a brief correction
---
Like this article? Help us with some feedback by answering this survey:
Rate this content
"Finance leaders from the G20 major economies on Wednesday endorsed a global deal to revamp corporate taxation and pledged to avoid premature withdrawal of fiscal support while keeping a close eye on inflationary pressures," according to a final draft communique seen by Reuters.
"The G20 finance ministers and central bank governors also called on the International Monetary Fund to establish a new trust fund to channel a $650 billion issuance of IMF monetary reserves to a broader range of vulnerable countries."
G20 finance leaders endorse OECD pact to adopt 15% global minimum corporate tax, reallocate taxing rights for large multinationals.
G20 finance leaders reaffirm resolve to use 'all available tools for as long as required' to address covid-19 and its impact.
G20 finance leaders pledge to sustain economic recovery, avoid any premature withdrawal of support measures.
G20 finance leaders say central banks will act as needed to ensure price stability while looking through inflation pressures where they are transitory.
G20 finance leaders say support IMF to secure additional donor contributions to CCRT funds to provide debt service relief for poor countries
G20 finance leaders call for further contributions to expand IMF's poverty reduction and growth trust -draft
G20 finance leaders call on IMF to establish new resilience and sustainability trust to channel reserve assets to a broader range of vulnerable countries-draft.
G20 finance leaders call for early engagement of borrower countries, private creditors in common framework debt restructuring process
G20 finance leaders urge Chad's private creditors to act swiftly on common framework debt restructuring process.
G20 finance leaders say look forward to 'ambitious' replenishment of world bank IDA fund for poor countries by December 2021.
G20 finance leaders say committed to strengthening resilience of non-bank financial intermediation sector.
G20 finance leaders reiterate that no 'global stablecoins' should start operations until all legal, regulatory and oversight requirements addressed.
G20 finance leaders say encourage concerted efforts to reform the world trade organization.
G20 finance leaders say will strive to address bottlenecks of covid-19 tools in low and middle-income countries in coming months.
Gold bulls bust through bearish commitments and prints fresh highs for October. 
US dollar gives back significant ground as 30-year US Treasury yields drop heavily. 
Stagflation theme gains traction in markets are cold energy sapping winter-time approaches.
The price of gold on Wednesday has rallied into key resistance territory where it has printed the highest levels since the weekly bar from the 13 Sep. At the time of writing, gold is trading at $1,792.50 and 1.85% higher. The price has travelled from a low of $1,757.89 to a high of $1,796.24 where it tests the 200-day EMA.
In key data today, US inflation data showed prices rose solidly in September, stoking expectations the Federal Reserve will announce a tapering of stimulus next month, with the potential for rate hikes by mid-2022. The Consumer Price Index rose 0.4% last month, versus a 0.3% rise expected by economists polled by Reuters.
In the 12 months through September, the CPI increased 5.4%, up from a 5.3% year-on-year advance in August, Reuters reported. "Excluding the volatile food and energy components, the so-called core CPI climbed 0.2% last month, up from 0.1% in August."
In more recent trade, the Federal Reserve released the minutes from its September meeting which gave the signs for a November announcement for tapering of the central bank's bond-buying stimulus. More on this in the link below:
FOMC Minutes: "A gradual tapering process would likely be appropriate"
Nonetheless, the greenback has fallen into the fourth position on the Currency Strength Indexes behind GBP and the commodity currencies, AUD and CAD. The move does not tally with the foresight with regards to timings of a US rate hike lift-off though. The market had been pricing in a rate hike for December of next year, but since the CPI data and hawkish Minutes, it is now eyeing September.
However, given how far the US dollar index has come in just a couple of weeks, rising some 1.7% and running into a wall of resistance as per the Sep 2020 highs, a correction is of no surprise, only the timing of it remains the head-scratcher. What is evident, however, is that yield differentials are playing their part, with the 10 and 30-year Treasury yields down 1.5% and 2.5% respectively on the day. "If the sell-off in rates continues, differentials may start to play a larger role in FX outcomes," analysts at ANZ Bank argued. 
US dollar index, monthly chart
At this juncture, the 38.2% and 50% Fibonacci retracements levels align with the old market structure between March and August 2021 between 93.18 and 93.50. 
Gold's fat right tail
Meanwhile, a  fundamental and strongly bullish case for gold has been made today by analysts at TD Securities as follows:
Although stagflation has captured share of mind, it has yet to translate into additional gold demand. However, as the global energy crisis intensifies, reasons to own the yellow metal are also growing more compelling. A cold winter could send energy prices astronomically higher, asymmetrically fueling stagflationary winds. This translates into a fat right tail in gold prices. With a low bar for short covering, CTA trend follower purchases could be a potential catalyst.
The price of Brent crude, the worlds global benchmark for oil has steadied on the day but remain near to the highest levels since Oct 2018: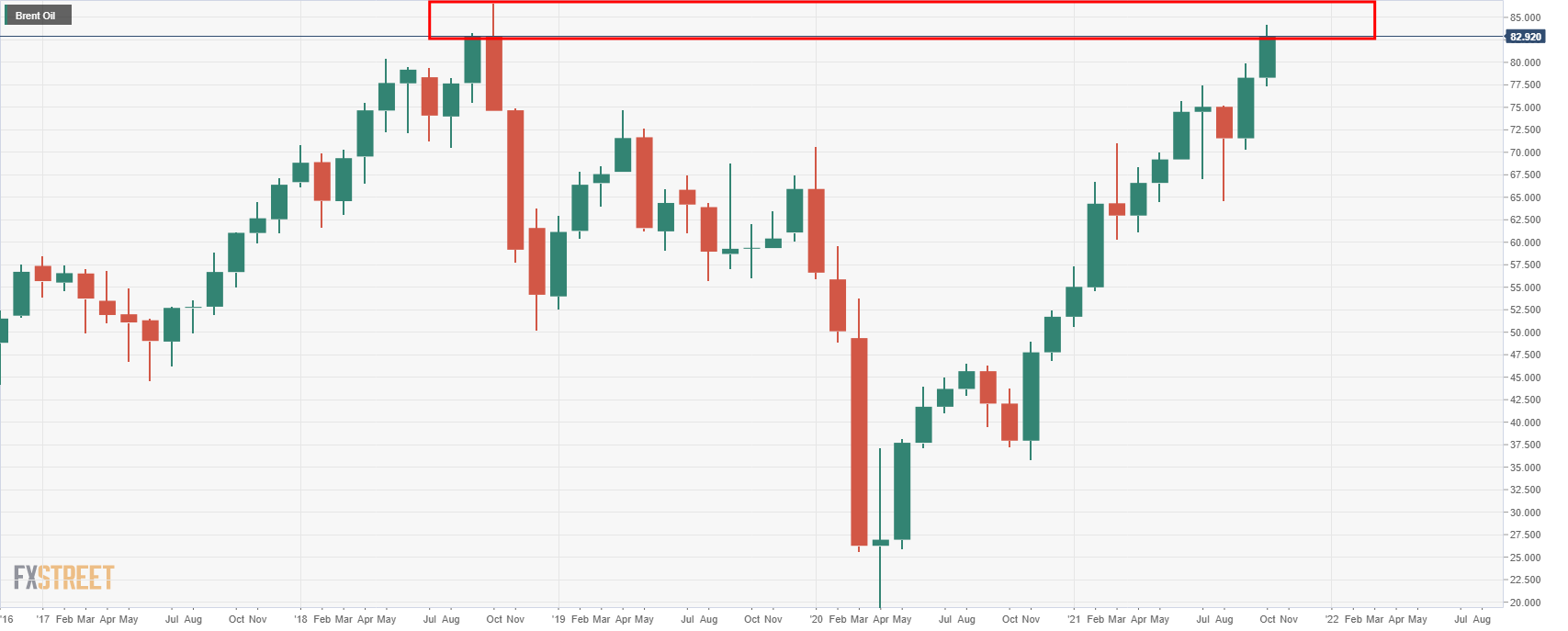 Gold technical analysis
Gold Chart of the Week: XAU/USD bulls step in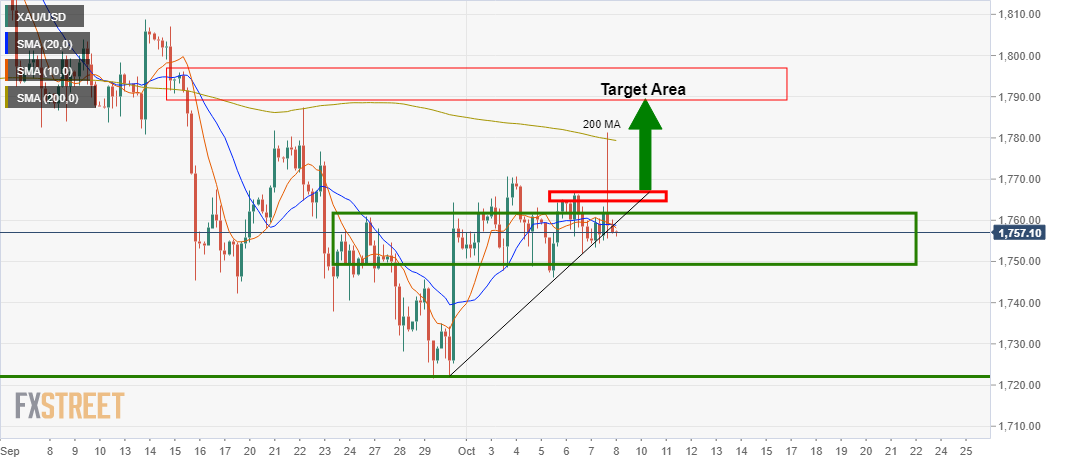 As illustrated on the chart above in analysis at the Asian open this week, from a 4-hour perspective, the target area was between 1,790/1,800 which has been met in today's rally. 
On Tuesday, as the chart below shows, the bears had been testing the grit of the bulls and the price had moved sideways along horizontal support and pushing dynamic support further out along the trend as follows: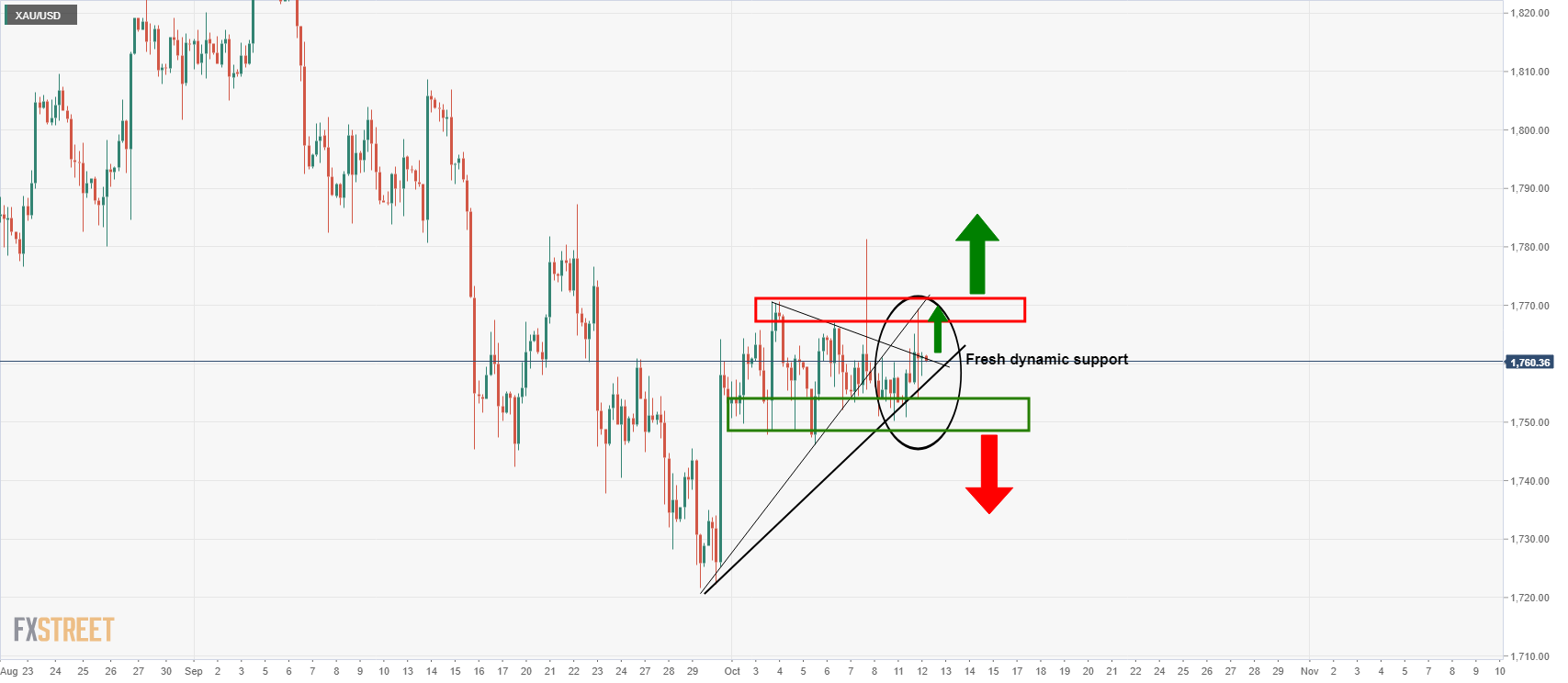 However, the price broke the dynamic resistance which led to the bullish breakout towards the daily 200 MA near 1,800, a move that was illustrated in the daily chart from Tuesday's analysis as follows: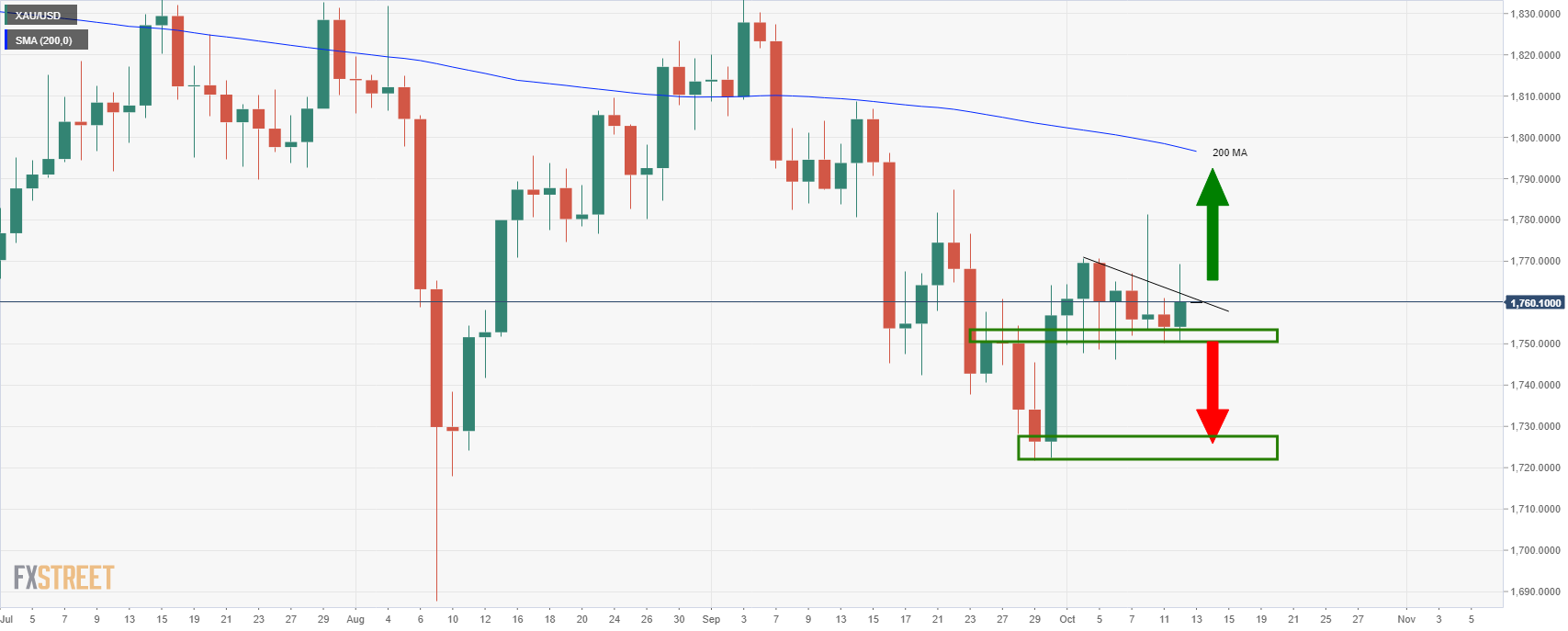 Gold live market, 4-hour chart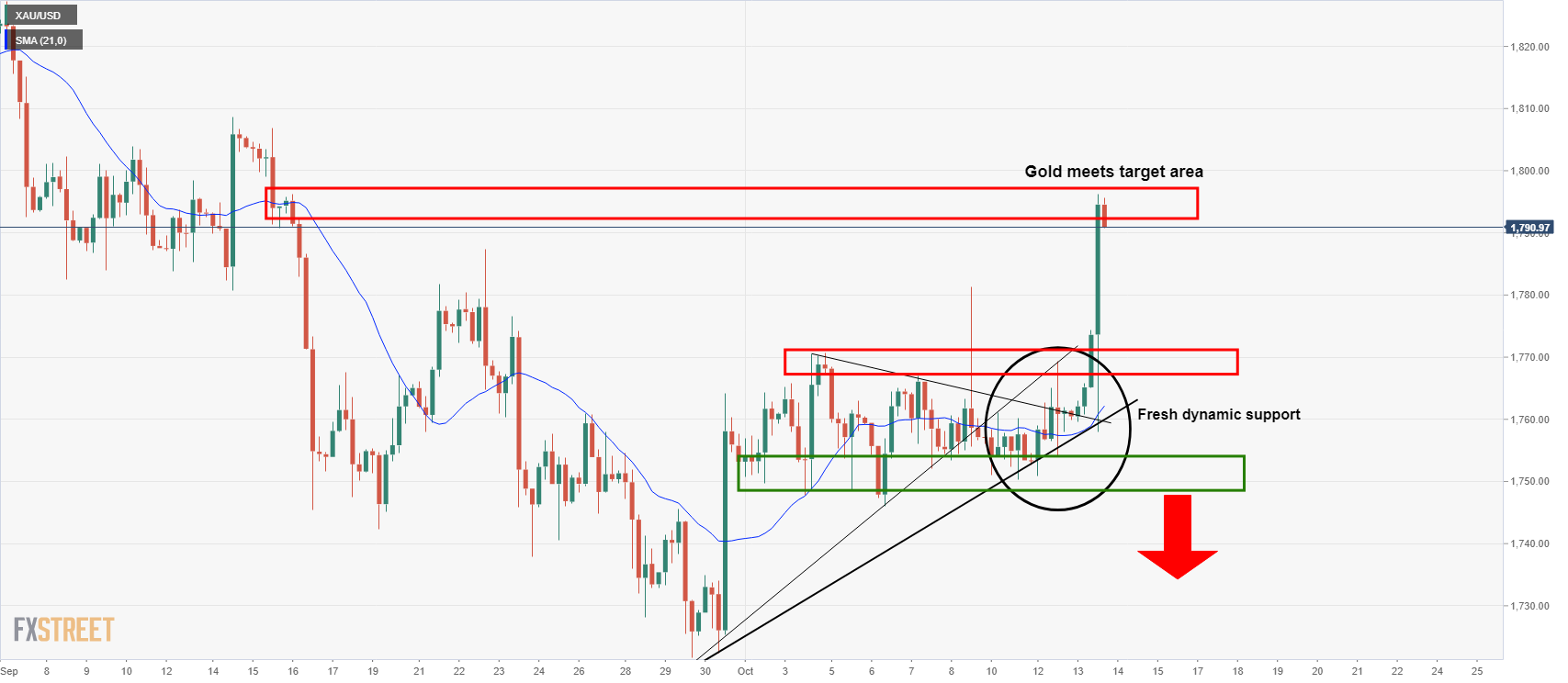 Gold live market, daily chart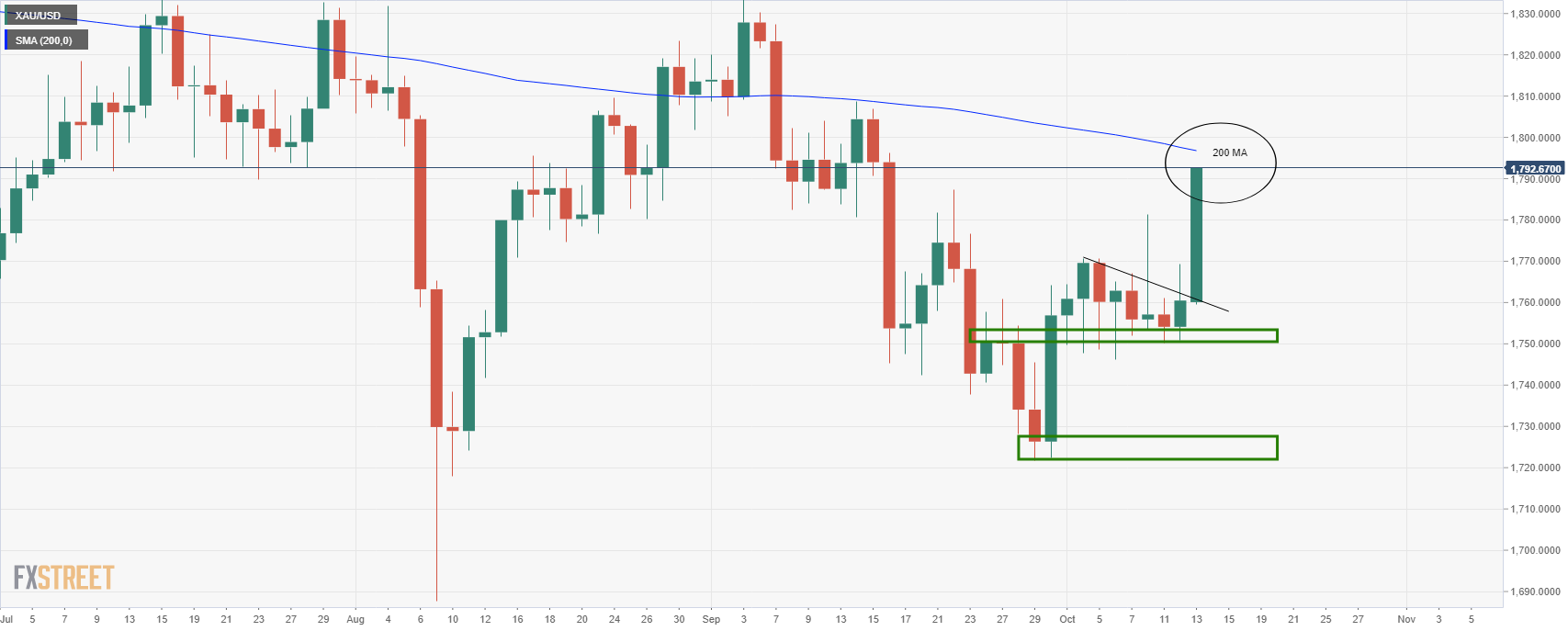 At this juncture, the price would be expected to stall as traders take profit and assess the landscape of current market themes awaiting the next major catalyst. With that being said, a correction to at least a 38.2% Fibonacci retracement would be expected in the near future. Currently, that level comes in near to $1,780.
Pound's rally is capped again right below 155.00. 
BoE rate hike expectations are fuelling sterling's rally.
GBP/JPY is expected to reach 159.80 area – Credit Suisse.
 
The British pound appreciated for the fifth consecutive day against a weaker Japanese yen on Wednesday, although the pair has been unable to breach the resistance area at 154.80/90.
The pound remains bid on BoE hike expectations
The sterling remains firm across the board, which has reflected in the 3.2% GBP/JPY rally witnessed over the last two weeks. Investors are anticipating that the Bank of England will be the first major central bank to start hiking interest rates following the COVID-19 crisis. The surging energy prices have boosted yearly inflation well beyond the Bank of England's 2% target for price stability, which has prompted some BoE officials to openly suggest the possibility of accelerating rate hikes, therefore increasing GBP's attractiveness for investors.
On the other end, the Japanese yen, particularly sensitive to monetary policy differentials is suffering against the GBP and the USD. With the Bank of Japan discarding the possibility of any rate hike for the foreseeable future, and with the yield curve under control, the JPY remains vulnerable against monetary tightening expectations in the rest of the world's major economies.
GBP/JPY expected to keep rallying towards – 159.80
In a bigger picture, the FX Analysis team at Credit Suisse expect the pound to continue appreciating in the coming weeks, heading to levels near 160.00: "With a major base already seen established in February 2021, we look for a break above 156.62 to further reinforce the positive outlook, with resistance seen next at 159.80."
Technical levels to watch
La Fed publicó sus Minutas de la reunión de política monetaria de septiembre.
Declaraciones clave:
Los participantes reafirmaron que el estándar de "progreso sustancial adicional" del comité con respecto a sus compras de activos era distinto de los criterios dados en su orientación futura sobre la tasa de fondos federales.
El comité ha articulado una prueba diferente y más estricta con respecto a las condiciones que deberían cumplirse antes de comenzar a aumentar el rango objetivo para la tasa de fondos federales.
En general, los participantes evaluaron que, siempre que la recuperación económica se mantuviera en general bien encaminada, probablemente sería apropiado un proceso de reducción gradual que concluyera a mediados del próximo año.
Varios integrantes destacaron que las condiciones económicas probablemente justificarían mantener la tasa en su límite inferior o cerca de él durante los próximos dos años.
Los participantes señalaron que si se tomaba la decisión de comenzar a reducir las compras en la próxima reunión, el proceso de reducción podría comenzar con los calendarios de compras mensuales a partir de mediados de noviembre o mediados de diciembre.
Algunos miembros plantearon la posibilidad de comenzar a aumentar el rango objetivo para fines del próximo año porque esperaban que para entonces se cumplieran los resultados del mercado laboral y la inflación especificados en la guía del comité.
Algunos de estos participantes vieron que la inflación probablemente se mantendrá elevada en 2022 con riesgos al alza.
Los integrantes de la Fed mencionaron los riesgos al alza de que la inflación continúe por más tiempo de lo esperado, especialmente si la escasez de mano de obra y otros suministros resultara más persistente de lo previsto actualmente.
La mayoría de los participantes señalaron que se había cumplido el estándar de "progreso sustancial adicional" con respecto al objetivo de estabilidad de precios del comité o que era probable que se cumpliera pronto.
Varios miembros expresaron preocupación porque el alto grado de acomodación que ofrece la política monetaria, incluso mediante la compra continua de activos, podría aumentar los riesgos para la estabilidad financiera.
Varios participantes evaluaron que aún no se había alcanzado el estándar de progreso sustancial adicional hacia la meta del máximo empleo, pero que, si la economía avanzaba aproximadamente como lo anticiparon, pronto podría alcanzarse.
Varios otros participantes indicaron que creían que se había cumplido la prueba del "progreso sustancial adicional" hacia el empleo máximo.
Algunos de estos participantes también sugirieron que las limitaciones de la oferta laboral eran los principales impedimentos para seguir mejorando las condiciones del mercado laboral en lugar de la falta de demanda.
Todos los miembros estuvieron de acuerdo en que sería apropiado que la declaración posterior a la reunión de la reunión en curso transmitiera que, si el progreso continúa en general como se esperaba, pronto se justificará una moderación en el ritmo de las compras de activos.
En general, los participantes comentaron que el "camino ilustrativo" de la puesta a punto desarrollado por el personal de la Fed proporcionó un modelo sencillo y apropiado que los responsables de la formulación de políticas podrían seguir.
Los responsables políticos señalaron que la incertidumbre seguía siendo alta.
Los participantes consideraron que la orientación actual de la política monetaria seguía siendo adecuada para promover el empleo máximo, así como para lograr una inflación promedio de 2% a lo largo del tiempo y expectativas de inflación a más largo plazo que están bien ancladas en 2%.
El camino ilustrativo abarcó reducciones mensuales de 10 mil millones de dólares en bonos del tesoro y 5 mil millones de dólares en MBS.
La mayoría de los participantes vieron los riesgos de inflación ponderados al alza.
Un par de integrantes observaron que avisar con anticipación al público en general de un plan en este sentido puede reducir el riesgo de una reacción adversa del mercado a la moderación en las compras de activos.
Varios miembros indicaron que preferían proceder con una moderación de compras más rápida que la descrita en los ejemplos ilustrativos.
Muchos participantes notaron el aumento sustancial en las medidas de las expectativas de inflación de uno y tres años en la encuesta de expectativas del consumidor de la Fed de Nueva York o en la medida de un año en la encuesta de la Universidad de Michigan.
Los participantes observaron que la tasa de inflación era elevada y esperaban que probablemente se mantendría así en los próximos meses antes de moderarse.
Los participantes mejoraron sus proyecciones de inflación y algunos expresaron su preocupación de que las tasas elevadas de inflación podrían repercutir en las expectativas de inflación a largo plazo de los hogares y las empresas.
Varios participantes indicaron que un aumento en la tasa de participación de la fuerza laboral podría retrasar las mejoras en otros indicadores como la tasa de desempleo, un patrón consistente con recuperaciones de ciclos económicos anteriores.
Varios participantes sugirieron que era poco probable que se volviera por completo a las condiciones del mercado laboral prepandémicas.
Varios otros participantes sugirieron que la presión alcista sobre los precios disminuiría a medida que disminuyesen los desequilibrios de oferta y demanda relacionados con el covid.
Los miembros acordaron que la declaración posterior a la reunión era un medio apropiado para reconocer que, en un futuro próximo, el comité probablemente evaluaría que se había cumplido con el estándar para reducir el ritmo de las compras netas de activos.
Varios otros evaluaron que una vez que pasaran las preocupaciones relacionadas con el covid que actualmente pesan sobre la participación de la fuerza laboral, la tasa de participación y la proporción de EPOP podrían volver a los niveles prepandémicos o incluso superarlos.
Algunos participantes señalaron que todavía no había pruebas de que el sólido crecimiento de los salarios estuviera ejerciendo una presión al alza sobre los precios en un grado significativo, pero también que la posibilidad merecía un seguimiento más detenido.
Implicaciones de mercado
El dólar está subiendo modestamente desde los mínimos diarios en el lanzamiento. Antes de las Minutas, el dólar estadounidense había retrocedido desde un máximo anual debido a que los rendimientos de los bonos del Tesoro a más largo plazo cayeron después de los datos de inflación de EE.UU., a pesar de que mostraban que los precios subieron sólidamente en septiembre, lo que adelantó las expectativas de ajuste de la Reserva Federal. Sin embargo, el dólar ha estado listo para las elecciones bajistas considerando lo lejos que ha llegado en solo un par de semanas, subiendo un 1.7% y chocando con un muro de resistencia según los máximos de septiembre de 2020.
Gráfico mensual – (USD)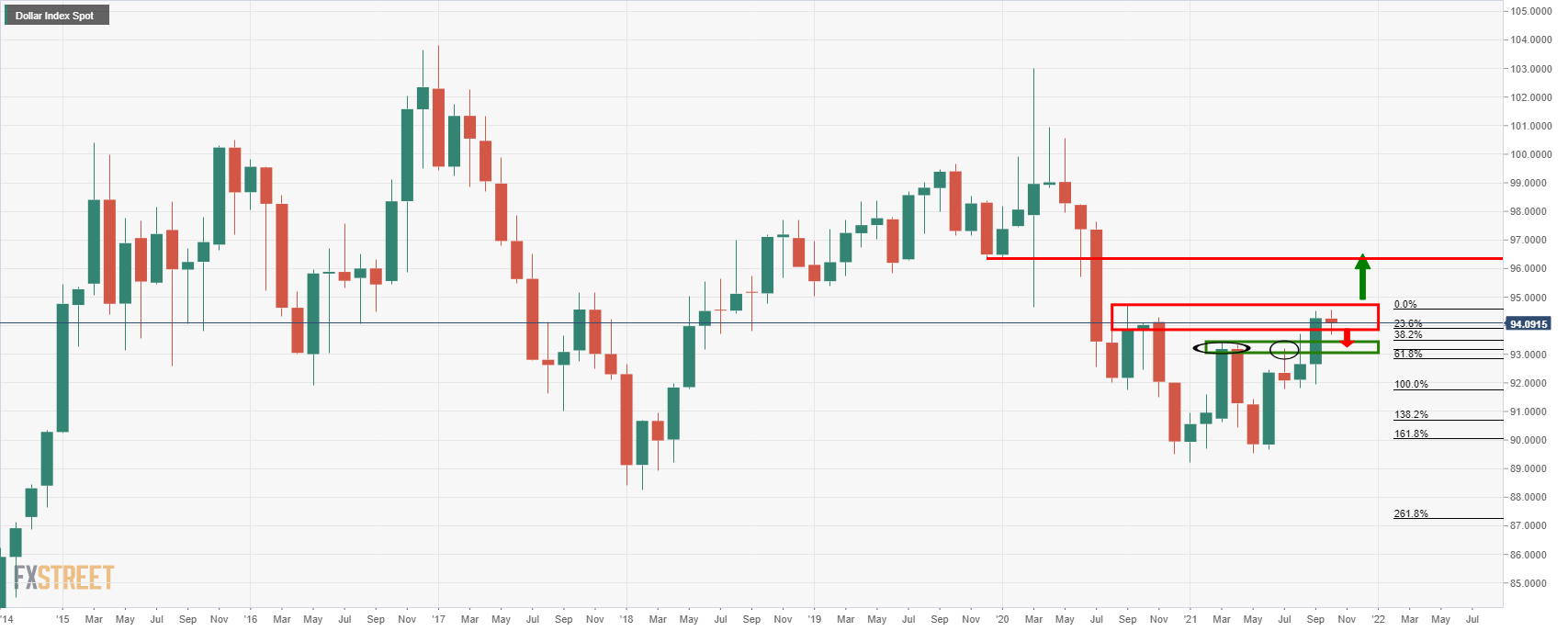 Mientras tanto, los futuros de los fondos de la Fed indican> 95% de probabilidad para el 22 de diciembre, ~ 70% de probabilidad de una subida de tipos el 22 de noviembre. Eso es un gran aumento en comparación con la semana pasada.
El dólar se mantiene cerca de máximos de tres años en 113.80, respaldado por encima de 113.00.
El yen japonés sube tras una tendencia bajista de cuatro días.
El rally del USD/JPY se dirige a 120.00 – ING.
El USD está recuperando algo de terreno frente al yen japonés en la sesión comercial estadounidense del miércoles. La reversión del par desde máximos de tres años en 113.80 encontró soporte en 113.25, antes de subir hasta 113.45.
El yen sube frente a un dólar estadounidense más débil
El yen japonés se apreció más temprano el miércoles, apoyado por un dólar algo más débil, como consecuencia de una curva de rendimiento estadounidense que se aplana. El rendimiento del bono a 10 años ha caído al 1.57% después de haber alcanzado un máximo de 1.61% el martes, mientras que el rendimiento a 2 años ha subido a máximos de 18 meses con un 0.36%.
Además, el calendario macroeconómico estadounidense ha confirmado las presiones inflacionarias que amenazan la recuperación económica. Los precios al consumidor de EE.UU. se aceleraron a un ritmo mensual del 0.4% y al 5.4% interanual en septiembre, desde el 0.3% y el 5.3% respectivamente en septiembre.
Estas cifras cuestionan la teoría de Fed Powell de una alta inflación "transitoria" y refuerzan las expectativas de que la Reserva Federal pueda anunciar el retroceso de su programa de estímulo monetario masivo en noviembre.
USD/JPY: Visto repuntando hacia 120.00 – ING
Sin embargo, según el equipo de análisis de divisas de ING, el repunte del USD está lejos de haber terminado. Esperan que el par alcance los precios en 120.00: "Se está acumulando presión para una ruptura al alza en el USD/JPY. Creemos que la historia macroeconómica/de la Fed de EE.UU. será positiva para el dólar durante los próximos 15 meses (el USD/JPY se negociará a 120), mientras que la evolución local parece ligeramente bajista en el JPY ".
Niveles técnicos