The Dow Jones Industrial Average lost 546.8 points or 1.59%.
The S&P 500 dropped 51.92 points or 1.19%.
The Nasdaq Composite sank63.86 points, or 0.44%.
On the last day of the third quarter, Wall Street ended with a thud with the S&P 500 posting its worst month since the global pandemic began. The higher contagious delta variant of the virus along with inflationary pressures and the latest brinksmanship in the US congress has weighed on US stocks in the final part of the month. 
On Thursday, the Dow Jones Industrial Average lost 546.8 points, or 1.59%, to 33,843.92, the S&P 500 fell 51.92 points, or 1.19%, to 4,307.54 and the Nasdaq Composite dropped 63.86 points, or 0.44%, to 14,448.58.
On the day, we had the initial jobless claims disappointing and unexpectedly, they edged higher for the third straight week.  US Initial Jobless Claims rose for a third straight week to 362,000 for the period ending Sept. 25. Economists polled by Reuters had forecast 335,000 jobless applications for the latest week.
In politics, the US Senate and House approved a stopgap spending bill. There was a brief market uptick, however, stocks resumed their decline.
 The US Senate has enough votes to approve a temporary govt funding bill
The stopgap measure, known as a continuing resolution, was expected to pass the Senate with bipartisan support. This follows Senate Majority Leader Chuck Schumer announcement on Wednesday night that a deal had been on the funding measure after an earlier bill, which included a provision to suspend the debt limit through December 2022, was blocked by Republican senators this week.
Quartly performances
Meanwhile, all three major US stock indexes had their worst quarterly performance since the start of 2020 and struggles of the COVID-19 pandemic. The S&P did manage a modest gain but the July-to-September period, while the Nasdaq and Dow suffered quarterly losses. For September,  the S&P and the Nasdaq suffered their biggest percentage drops since March 2020, while the Dow saw its largest monthly percentage drop since October.
La reversión del dólar estadounidense desde el área de 0.9350 se ha contenido por encima de 0.9320.
El dólar consolida ganancias después de un repunte de cuatro días.
Por encima de 0.9356/69, el par podría acelerar la tendencia alcista hacia 0.9473 – Credit Suisse.
El dólar estadounidense está consolidando ganancias en torno a 0.9340 el jueves después de un repunte de cuatro días desde 0.9240. El retroceso del par desde los máximos de 5 meses y medio 0.9365 se ha contenido por encima de los máximos anteriores en 0.9320/30 en una sesión de negociación oscilante.
El rally del dólar estadounidense pierde fuerza
El dólar está dudando después de haberse apreciado más del 1% en los últimos cuatro días, impulsado por el repunte de los rendimientos de los bonos estadounidenses en medio de las expectativas del mercado de que la Reserva Federal podría comenzar a reducir las compras de bonos a partir de noviembre.
El estado de ánimo amargo del mercado en la sesión americana del jueves, con los mercados de valores volviéndose negativos después de una apertura positiva, está pesando sobre el USD, a favor del franco suizo de refugio seguro.
Además, el calendario económico no ha sido particularmente favorable al dólar. Las solicitudes semanales de desempleo aumentaron por tercera vez consecutiva en la semana del 25 de septiembre, con 362.000 nuevas solicitudes, mientras que el Producto Interno Bruto de EE.UU. del segundo trimestre se revisó hasta un aumento del 6.7% desde la estimación anterior del 6.6%.
USD/CHF: La ruptura de la resistencia 0.9356/69 abrirá el camino hacia 0.9473 – Credit Suisse
El par ahora se encuentra limitado por debajo de una resistencia importante en 0.9356/69 que, según el equipo de análisis de divisas de Credit Suisse, abriría el camino hacia 0.9473: "Vale la pena reiterar que hay poca resistencia significativa si una ruptura por encima de 0.9356/69 se ve hasta el máximo de 0.9473, lo que sugiere que podríamos ver una fuerte aceleración en el impulso ".
Niveles técnicos 
USD/CHF
Panorama
Último Precio de Hoy
0.9319
Cambio Diario de Hoy
-0.0023
Cambio Diario de Hoy %
-0.25
Apertura Diaria de Hoy
0.9342
Tendencias
SMA de 20 Diaria
0.9229
SMA de 50 Diaria
0.9177
SMA de 100 Diaria
0.9135
SMA de 200 Diaria
0.9109
Niveles
Máximo Previo Diario
0.9355
Mínimo Previo Diario
0.928
Máximo Previo Semanal
0.9333
Mínimo Previo Semanal
0.9216
Máximo Previo Mensual
0.9242
Mínimo Previo Mensual
0.9019
Fibonacci Diario 38.2%
0.9327
Fibonacci Diario 61.8%
0.9309
Punto Pivote Diario S1
0.9297
Punto Pivote Diario S2
0.9251
Punto Pivote Diario S3
0.9221
Punto Pivote Diario R1
0.9372
Punto Pivote Diario R2
0.9401
Punto Pivote Diario R3
0.9447
Lo que necesita saber el viernes 1 de octubre:
La aversión al riesgo volvió a dominar los mercados financieros, aunque la moneda estadounidense no fue la única beneficiada. Los precios del oro subieron firmemente, mientras que las monedas de refugio recibieron atención durante la última sesión de negociación del mes.
El dólar ha alcanzado condiciones de sobrecompra frente a la mayoría de los principales rivales, con mayores posibilidades de una caída correctiva.
El Producto Interno Bruto del segundo trimestre de EE.UU. se revisó al alza hasta el 6.7% intertrimestral, ligeramente mejor de lo previsto. Sin embargo, los datos relacionados con el empleo siguen siendo decepcionantes antes del informe de nóminas no agrícolas que se publicará la próxima semana. El Presidente de la Reserva Federal de Estados Unidos, Jerome Powell, dijo que un buen informe de empleo podría convencerlo de que han alcanzado el umbral de empleo necesario para reducir el apoyo financiero.
El par EUR/USD cayó a un nuevo mínimo de 2021 de 1.1562, mientras que el GBP/USD hizo suelo en 1.3516. El USD/JPY cambió de rumbo durante el horario comercial de EE.UU. y se estableció en 111.34. Las monedas vinculadas a las materias primas se recuperaron bien, aunque, en una perspectiva más amplia, los avances parecen correctivos.
El XAU/USD agregó aproximadamente 40.00$ por onza troy, terminando el día alrededor de 1,756.00$. Los precios del petróleo crudo cayeron intradía, pero terminaron con ganancias modestas, con el WTI estableciéndose en 75.20$ el barril.
Wall Street se desplomó al comienzo de la sesión, pero se estabilizó en números bajistas después de un modesto rebote desde los mínimos intradiarios. Los rendimientos de los bonos del gobierno retuvieron las ganancias mensuales y se liquidaron en el extremo superior de su rango mensual.
NZD/USD bulls step in and target the 38.2% Fibo. 
The 50% mean reversion is eyed as a potential deeper target. 
US dollar is expected to be stronger for longer. 
NZD/USD is trading around 0.58% higher on the day and has risen from a low of 0.6859 to a high of 0.6921, coming close to its 38.2% Fibonacci retracement of the daily drop at 0.6927. 
The surprise rise in US jobless claims weighed on the greenback on Thursday. US Initial Jobless Claims rose for a third straight week to 362,000 for the period ending Sept. 25. Economists polled by Reuters had forecast 335,000 jobless applications for the latest week.
However, US equities have also responded in kind as the markets still expect the Federal Reserve to taper its monetary stimulus beginning in November. Last week, the Fed also flagged interest rate increases may follow sooner than expected. 
At home, however, the overall story for the Kiwi is one of altitude adjustment, analysts at ANZ Bank said in a note on Friday in Asia. "The three most correlated variables for the NZD of late have been US high-yield bond spreads, the USD against a basket of Asian currencies, and emerging market equities."
"As each of these have come back, so has the NZD. Overlay the long tail of Delta over that, and the picture is arguably less optimistic than it was, even with OCR hikes and carry coming next week."
You can't keep a good US dollar down 
Meanwhile, switching back to the US dollar, a correction might be all that we get for the meantime and a move higher could be just around the corner. Analyst's at Brown Brothers Hamrriam are of that mind.  "The speed of this dollar move is quite frankly very surprising," the analysts said. "Based on the previous experience, we believe that this period of dollar strength still has legs."
With regards to US yields, the analysts target higher in the 10-year. "It remains on track to test the May high near 1.70% and then the March 30 high near 1.77%.  The real 10-year yield is also higher and at -0.85% is the highest since July 1.  A break above -0.82% is needed to set up a test of the March 19 high near -0.59%.  If this rise in US yields can be sustained, it is yet another dollar-positive factor to consider.  Of note, the Fed Funds strip now has lift-off in Q4 2022 almost fully priced in."
NZD/USD technical analysis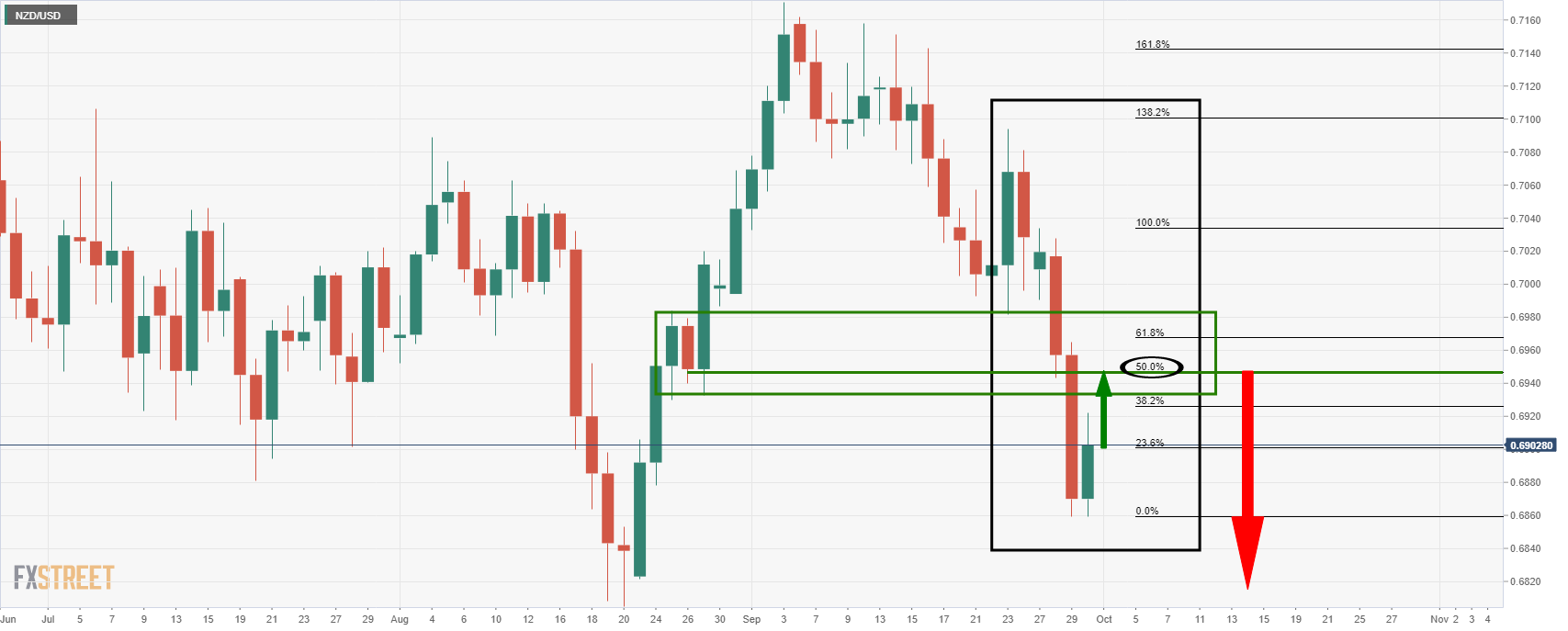 NZD/USD is establishing and there could be a continuation to the upside beyond the 38.2% Fibo to target near 0.6950.