El USD/CAD sigue en camino de romper la racha ganadora de dos días.
El índice del dólar estadounidense está probando 92.00 en la sesión americana.
El rendimiento de los bonos del Tesoro de EE.UU. a 10 años ha bajado más del 2%.
Después de pasar la primera mitad del día en un canal ajustado alrededor de 1.2600, el par USD/CAD estuvo bajo una renovada presión bajista y tocó un mínimo diario de 1.2563. Al momento de escribir, el par perdió un 0.28% en el día a 1.2572.
La venta masiva del USD permanece intacta
La valoración de mercado del USD sigue siendo el principal impulsor de los movimientos del USD/CAD el jueves. Con el rendimiento del bono del Tesoro estadounidense a 10 años perdiendo más del 2% en el día, el índice del dólar estadounidense (DXY) cayó a su nivel más bajo en más de dos semanas a 91.99 y se vio por última vez perdiendo un 0.42% en el día a 92.04 .
Los únicos datos de EE.UU. mostraron que las solicitudes iniciales de desempleo semanales aumentaron en 16.000 a 744.000 en la semana que finalizó el 3 de abril. Esta lectura fue peor que la estimación de los analistas de 680.000, pero fue ignorada en gran medida por los participantes del mercado.
Mientras hablaba en una conferencia organizada por el Fondo Monetario Internacional (FMI), el presidente del FOMC, Jerome Powell, reiteró que ven una presión al alza sobre los precios que probablemente sea temporal este año. Powell señaló además que continuarán apoyando la economía y no ayudaron al dólar a realizar una recuperación.
Por otro lado, el barril de West Texas Intermediate (WTI) continúa fluctuando en un rango estrecho por debajo de 60$ el jueves, lo que permite que el USD/CAD continúe reaccionando a los movimientos del DXY.
El viernes, el informe del mercado laboral canadiense y los datos del índice de precios al productor (IPP) de los EE.UU. serán considerados para un nuevo impulso.
El oro alcanzó su nivel más alto en más de un mes en la parte superior de 1.750$ en operaciones recientes.
Los comentarios moderados del presidente de la Fed, Powell, han estado afectando los rendimientos, el dólar y el soporte al oro.
Los precios del oro al contado (XAU/USD) alcanzaron sus niveles más altos en más de un mes, justo por encima del máximo del 18 de marzo de 1.755$ en el comercio reciente y continúan manteniéndose por encima de 1.750$. El par ha estado a la vanguardia durante la mayor parte de la sesión del jueves, subiendo desde los niveles tocados en la sesión asiática en 1.730$. Eso significa que el oro cotiza con ganancias de alrededor del 1.1% o poco menos de 20$ en el día. Por el lado positivo, los alcistas a corto plazo buscarán una prueba del promedio móvil de 50 días en 1.764$.
Desempeño del día
El principal impulsor de la acción del precio del oro el jueves han sido los mercados de bonos del gobierno de Estados Unidos. Los rendimientos son un poco más bajos, con una caída del rendimiento a 10 años de alrededor de 2 puntos básicos por debajo del 1.64%. Siguiendo los comentarios moderados del presidente de la Fed, Jerome Powell, es posible que haya más caídas en los rendimientos de los bonos del gobierno de Estados Unidos, lo que sería positivo para el oro. Aunque los bonos aún no han reaccionado mucho a los comentarios de Powell, el dólar estadounidense se ha visto afectado y el DXY retrocedió hasta el nivel de 92.00. El dólar estadounidense más débil también es un factor de soporte para el oro.
Habla el presidente de la Fed, Powell
El presidente de la Fed, Jerome Powell, ha estado hablando en un panel del FMI durante la última hora más o menos. Powell dijo que las perspectivas para la economía estadounidense han mejorado como resultado del apoyo fiscal y las vacunas. Sin embargo, Powell señaló que el ritmo más lento de las vacunas globales y el reciente aumento de las infecciones por Covid-19 en los EE. UU. Son riesgos para el progreso reciente que se ha logrado y que espera que un aumento en los casos de Covid-19 desacelere la recuperación económica. Powell señaló que si bien el apoyo fiscal y monetario ha ayudado a la economía estadounidense a evitar muchas cicatrices, la economía sigue necesitando apoyo, antes de agregar que millones de personas tendrán dificultades para volver a la fuerza laboral. En referencia al reciente informe de empleo sólido, Powell dijo que la Fed querría ver una serie de meses como el informe de empleo de marzo para ver el progreso hacia sus objetivos, antes de señalar que la tasa de desempleo en el cuartil inferior de la economía sigue siendo 20%.
En resumen, las observaciones de Powell sobre la economía fueron moderadas; reconoció, pero pareció restar importancia a los datos sólidos recientes y la mejora reciente en las perspectivas económicas de la economía, mientras se muestra ansioso por enfatizar que la economía sigue estando muy lejos de los objetivos de la Fed (como se esperaba). Pasando a los comentarios de Powell sobre la inflación; Señaló que un aumento único de la inflación es diferente de un aumento persistente de la inflación, que definió como una inflación que aumenta "año tras año tras año". En ese sentido, Powell reiteró que es muy probable que las presiones alcistas de los precios a finales de este año sean temporales, en otras palabras, diciendo que la Fed no se preocupará por el repunte de la inflación y se mantendrá firme en lo que respecta a las condiciones monetarias favorables. Estos comentarios, aunque no son nada nuevo, también parecen haber contribuido al tono dócil de los comentarios de Powell.
Niveles técnicos 
The United States has a lot of debt capacity and government spending in response to the coronavirus crisis has been wise, Minneapolis Federal Reserve President Neel Kashkari said on Thursday, as reported by Reuters.
Additional takeaways
"Both parties recognize the value of an independent Fed."
"I don't think debt capacity is unlimited; eventually, it will show up in inflation."
"If higher government debt resulted in inflation, the Fed would need to tap brakes but I don't see that in the immediate future."
"In the time of a national crisis, it's better to err on the side of being generous in fiscal aid."
Market reaction
These comments were largely ignored by the market participants and the US Dollar Index was last seen losing 0.38% on a daily basis at 92.07.
"The euro-zone economy is doing better than many expected given that much of the hospitality and travel sector is still closed due to virus-related restrictions," note Capital Economics analysts. 
Key quotes
"Indeed, the latest business surveys suggest that manufacturing output is growing at a near-record pace. However, this rebound is from a very subdued level and the services sector is still hobbled by COVID-19 restrictions."
"Overall, we do not expect the eurozone economy to expand at all in Q2. That said, despite multiple regulatory and logistical problems, the pace of vaccinations has picked up somewhat over the past month."
"Our best guess is that 50% of adults will have been vaccinated by the end of July. That would allow most restrictions to be lifted during the summer and would pave the way for a sustainable economic rebound."
Minneapolis Federal Reserve President Neel Kashkari reiterated on Thursday that the Fed will not be raising rates preemptively, as reported by Reuters.
Additional takeaways
"Headline unemployment rate understates slack; the real unemployment rate is 9.1%."
"We need to get as many people vaccinated as possible to prevent the 4th wave, keep recovery on track."
"This year we'll see inflation uptick but it will be temporary."
"Would not be surprised to see 2.5% inflation, maybe higher."
"Quite confident we can boost inflation in the short-term but keep long-run expectations anchored."
"The biggest risk to recovery are variants."
"Raising inflation target could undermine public trust in the Fed."
"At some point, when the pandemic is behind us, the Fed will shrink its big balance sheet, but will be bigger than in past."
Market reaction
The greenback continues to have a difficult time finding demand after these comments. As of writing, the US Dollar Index was down 0.38% on a daily basis at 92.07.
Technically, AUD/USD is ripening for bullish prospects on the 15-min chart.
Longer-term, there is a bearish topping formation on the weekly chart.
Fundamentally, the AUD remains balanced with a focus on offshore yields and equities.
 At the time of writing, AUD/USD is trading at 0.7651 between a low of 0.7602 and a high of 0.7660, higher by some 0.52%.
The AUD struggled mid-week in choppy trading as markets digested a move higher in yields and softer commodities but there was a shift in sentiment following the Federal Open Market Committee minutes.
DXY traded yesterday at the lowest level since March 23 before finding support just above the 92 areas.
This goes to underpin the notion that near-term risks for the AUD remain balanced with a focus on offshore yields and equities.
Overall, for the week, the US dollar has struggled, losing around 1.6% as measured against a basket of currencies in the DXY since last week's highs. AUD/USD has gained almost 2%. 
Since the FOMC minutes, key US equities ticked up as the Fed reiterated that conditions for tapering won't be met for some time. This weighed on the greenback and lifted both the commodity complex and the Aussie. 
"Increasingly, growth and inflation dynamics in the US will encourage the market to challenge the Fed on the timing of rate rises," analysts at ANZ Bank explained. 
"Whilst current guidance can temper the rise in bond yields near term, sustained above-trend growth may require updated guidance, especially if renewed public sector investment underpins higher productivity growth."
Meanwhile, analysts at Brown Brothers Harriman continue to think that this week's dollar weakness is technical in nature, with the rally to resume on the red hot US economic outlook.  "US long yields have stabilized for now but should move higher in the coming weeks."
Eyes on Chinese growth
Looking ahead to next week, China is one of the first Asian countries to release its 1Q21 GDP reports.
China was impacted by the Covid-19 virus and a subsequent economic slump that dented its GDP growth by -6.8% year-on-year in the first quarter of 2020. 
That low base effect positioned it for a strong bounce in yearly growth in the first quarter of this year which would be expected to be supportive of AUD.
Casting minds back, AUD performed extremely well on the basis of its decoupling from other developed nation's spread of the virus and the economy was expected to outperform. 
AUD/USD technical analysis
From a short term perspective, there are prospects for a continuation higher given the strong bullish impulse and a significant correction on the 15-min chart as follows: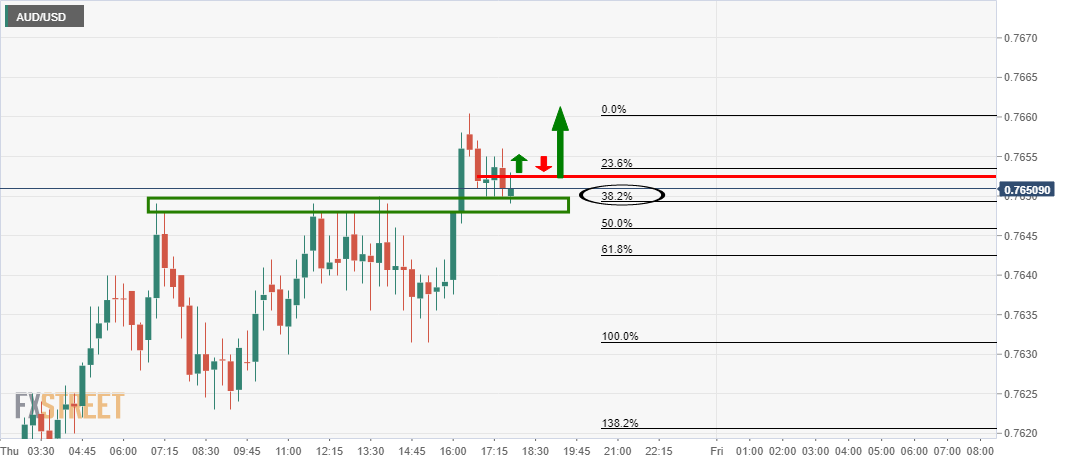 Bulls will wat to see the resistance broken and for the same area to act as support on a possible retest which would be expected to result in a bullish continuation in a fresh bullish impulse.
From a longer-term outlook, there is a bearish topping pattern on the weekly chart in the form of a head and shoulders as follows:
The price has already corrected to a 38.2% Fibonacci of the latest weekly bearish impulse which resides below the neckline of the H&S. 
Therefore, there is still room for a 50% mean reversion as well that has a confluence with the counter trendline resistance (or the neck-line). 
EUR/USD is back above its 200DMA and the 1.1900 level following dovish remarks from Fed Chair Powell.
Powell noted the slow pace of global vaccinations and rising cases in the US as risks to the near-term outlook.
EUR/USD is currently trading close to highs of the day around the 1.1900 level, the pair having managed to aggressively reclaim the big figure and jump back to the north of its 200-day moving average at 1.1883 in recent trade. With the pair having now convincingly reclaimed 1.1900, medium-term bulls will be on the lookout for a gradual move back towards the 50DMA at 1.1974 and the mid-March double top at 1.1990 just above it. On the day, EUR/USD trades with gains of just under 60 pips or about 0.5%.
Driving the day
The euro has been a beneficiary of broad USD weakness on Thursday and sits somewhere near the middle of the G10 performance table for the day. That implies that the main driver of EUR/USD has been the dollar side of the equation, not the euro side. Indeed, there has not been a great deal to update on with regards to the Eurozone, aside from ECB speak and the release of the minutes of the March ECB meeting; regarding the latter, as expected, the tone of the minutes was very dovish, with ECB members agreeing that it is important to provide assurance that the governing council will be maintaining highly accommodative monetary policy conditions for as long as necessary and sees no risk of overheating. Turning to ECB speak, ECB President Christine Lagarde noted that the pandemic and related containment measures will continue to have a negative impact on economic activity in the Eurozone in the short-term, but that activity should pick up later in the year. ECB Chief Economist Philip Lane reiterated that favourable financial conditions must be maintained, ECB's Klass Knot noted that he hopes the pace of asset purchases under the PEPP can be reduced by June.
Turning to the US dollar then and the reasons for its weakness. The latest bout of selling has come in wake of remarks from Fed Chair Jerome Powell; Powell, speaking at an IMF panel over the last hour or so, said that the outlook for the US economy has brightened as a result of fiscal support and vaccines. However, Powell noted that the slower pace of global vaccinations and the recent rise in Covid-19 infections in the US are both risks to the recent progress that has been made, and that he expects a rise in Covid-19 cases to slow the economic recovery. Powell noted that while fiscal and monetary support have helped the US economy avoid a lot of scarring, the economy continues to need support, before adding that millions of people will have a hard time getting back into the workforce. In reference to the recent strong jobs report, Powell said the Fed would want to see a string of months like the March jobs report to see progress towards its goals, before pointing out that the unemployment rate in the bottom quartile of the economy is still 20%.
In sum then, Powell's remarks on the economy were dovish, hence the weakness in USD; he acknowledged but seemed to play down recent strong data and the recent improvement in the economy's economic outlook, while coming across as eager to emphasise that the economy remains a long way from the Fed's goals (as expected). Moving on to Powell's remarks on inflation; he noted that a one-time increase in inflation is different from a persistent increase in inflation, which he defined as inflation going up "year after year after year". In that vein, Powell reiterated that the upwards price pressures later this year are most likely to be temporary, in other words, saying that the Fed is not going to be worried by the pickup in inflation and will stick to its guns with regards to easy monetary conditions. These comments, whilst nothing new, also seem to have contributed to the dovish tone of Powell's remarks.
But USD had been on the back foot even before Powell's remarks. Lower US government bond yields (the 10-year has dropped to under 1.64%) and a generally risk-on market tone (the S&P 500 is currently trading just under all-time highs in the 4090s) have been weighing on the buck. Traders have also cited the release of Wednesday's minutes of the 16-17 March FOMC meeting, which seemed to be on balance dovish. The minutes did not seem to have much of a market impact at the time; they were as dovish as you would expect. However, as time has gone on and markets have had more time to digest the contents, markets seem to be interpreting them as more dovish. Indeed, the minutes emphasised how a number of FOMC participants want the Fed to see actual progress towards their goals before tightening, rather than tightening based on forecasts. In other words, the Fed is keen to put itself "behind the curve", given that it is of the belief that being "in front of the curve" hurt economic growth by allowing financing conditions to tighten too quickly in the past.
Looking ahead, the main event for US dollar traders to keep an eye on for the rest of the week is Friday's Producer Price Inflation report for the month of March. Euro traders, meanwhile, will be eyeing remarks from ECB Vice President Luis de Guindos at 08:30BST on Friday. Otherwise, EUR/USD is likely to continue trading as a function of bond yield differentials and the state of the pandemic on both sides of the Atlantic.
El presidente del FOMC, Jerome Powell, pronuncia sus comentarios en el seminario del Fondo Monetario Internacional (FMI) titulado "Debate sobre la economía global".
Declaraciones destacadas
"El aumento único de los precios es diferente de la inflación persistente".
"Por inflación, nos referimos a una inflación persistente que aumenta año tras año tras año".
"No esperamos que los aumentos de precios debido a la escasez de oferta se repitan año tras año".
"Vemos que es probable que la presión alcista sobre los precios sea temporal este año".
"Tenemos herramientas para lidiar con la inflación si surge la necesidad".
"La herramienta tradicional para lidiar con la inflación es subir las tasas".
"Estaremos monitoreando de cerca las expectativas de inflación".
Reacción del mercado
El índice del dólar estadounidense continúa presionando a la baja y se vio por última vez perdiendo un 0.45% en el día a 92.00.
El presidente del FOMC, Jerome Powell, pronuncia sus comentarios en el seminario del Fondo Monetario Internacional (FMI) titulado "Debate sobre la economía global".
Declaraciones clave
"La tasa de desempleo entre el cuartil inferior es del 20%".
"No volveremos a la misma economía".
"Habrá millones de personas que tendrán dificultades para conseguir trabajo; será apropiado seguir apoyándolas".
"Hemos evitado muchas cicatrices".
"Necesitamos seguir apoyando la economía, y lo haremos".