​​​​​El par GBP/USD cotiza un 0,44% al alza debido a que las noticias del Brexit aumentan el precio.
La próxima parada es el nivel psicológico de 1,30 que ha sido complicado en el pasado.
Contexto fundamental
El cable se ha movido al alza el miércoles, ya que los últimos titulares de las negociaciones del Brexit fueron positivos. Fue al principio de la sesión de la UE cuando el negociador jefe del Brexit de la UE, Barnier, elevó las esperanzas de un acuerdo Brexit en medio de un nuevo "rumor" en las conversaciones (informado por el Express). Esto está en marcado contraste con lo que suele suceder después de las negociaciones del Brexit, ya que normalmente hay una serie de comentarios negativos.
Fue entonces el turno del economista jefe del Banco de Inglaterra (Andy Haldane) para sacudir la libra cuando afirmó que no se había cumplido ninguna de las condiciones para las tasas negativas. Continuó comentando que cualquier decisión sobre la política dependería del análisis de costo-beneficio y que esto podría llevar meses. Por último, Haldane continuó diciendo que el Banco de Inglaterra está comprometido a mantener los costos de los préstamos en niveles bajos y que la economía se ha recuperado más rápido de lo esperado.
Gráfico de 1 hora
El gráfico horario a continuación muestra el alcance del repunte de la libra. El par parece estar a punto de llegar a 1.3000 y hay un nivel firme marcado en azul muy cerca. El nivel ha sido probado siete veces en solo dos meses y es justo decir que podría haber una reacción allí.
Los indicadores ahora se han vuelto positivos ya que el histograma MACD está verde y las líneas de señal están por encima de cero. El índice de fuerza relativa está por encima de 50 y parece que podría dirigirse a la zona de sobrecompra.
Lejos del nivel de resistencia mencionado anteriormente, hay uno más fuerte marcado por el rectángulo rojo. Esta zona confluye con el nivel de retroceso de Fibonacci del 61.8% y podría volverse rígida si el precio llegara a ese nivel. Si hay más noticias positivas sobre el Brexit para fin de semana, sería difícil descartarlo.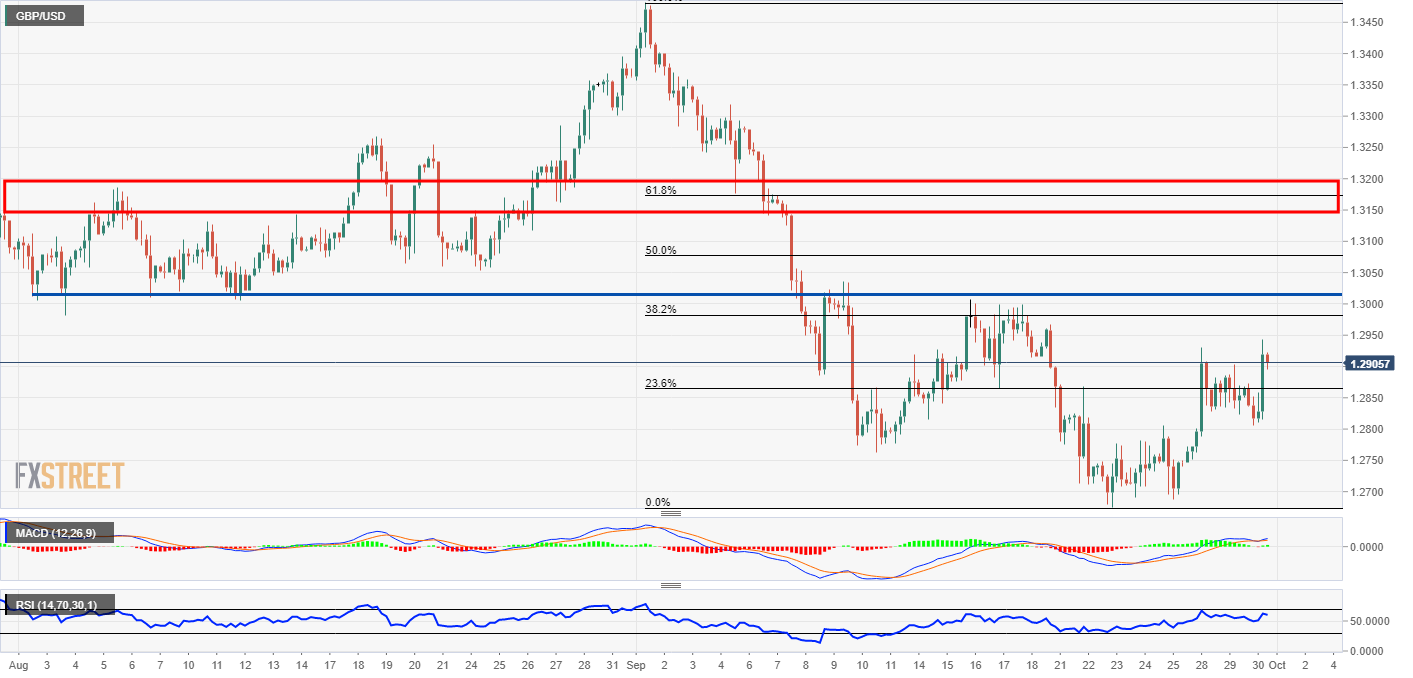 St. Louis Federal Reserve President James Bullard speaking at a Bank conference has said that economic growth will continue into the first quarter. 
More to come…
Here is what you need to know on Thursday, October 1:
The financial markets were led by the risk-related sentiment, with the greenback seesawing between gains and losses. Risk appetite surged during the American afternoon on renewed hopes for a US coronavirus aid package, and while Senator McConnell said that Republicans and Democrats are far apart of virus relief, the mood remained upbeat. Ahead of the close, Treasury Secretary Mnuchin announced there's no deal yet.
The American dollar lost ground against most major rivals on the improved sentiment. However, EUR/USD closed in the red around 1.1720. The GBP/USD pair edged higher, despite mounting concerns related to the latest coronavirus outbreak in the UK.
US data came in better than anticipated, as the ADP survey showed that the private sector added 749K new jobs, beating the market's expectations of 650K. The country also published the final reading of Q2 GDP, which resulted in -31.4% slightly better than the previous estimate of -31.7%. The figures supported the optimistic sentiment.
Wall Street held on to gains but pulled off daily highs amid the lack of progress in a US coronavirus aid package.
Regeneron Pharmaceuticals reported positive data on a potential coronavirus treatment, which reportedly reduces virus levels and improve symptoms in sick patients who weren't hospitalized. Meanwhile, Moderna reported progress on its coronavirus vaccine but added that it won't likely be ready until late November.
Gold briefly surpassed 1,900 but closed the day unchanged around $1,886.00 a troy ounce. Crude oi prices recovered alongside equities, with WTI settling at $40.00 a barrel.
Ethereum continues to reign the DeFi market, but TRON's network activity skyrockets
Reuters has reported on the news that Spain has approved new criteria to restrict travel in and out of large cities with high coronavirus infection rates, mainly affecting Madrid and its metropolitan area, Health Minister Salvador Illa said on Wednesday.  
"The new restrictions, to be enforced in the coming days, apply to municipalities with a population of more than 100,000 that meet certain epidemiological criteria."
Key notes
"Spain's Health Minister says that the government has approved new criteria to restrict travel in large cities with high coronavirus infection rates."
"Spain's Health Minister says new coronavirus restrictions to be enforced in coming days, affect Madrid and 9 surrounding cities."
However, in more recent news relating to the story, Reuters also reported that "Madrid's regional authorities do not agree with the central government's plans to lock down the capital city in the coming days, regional health chief Enrique Ruiz Escudero told a news conference, saying the decision was not valid legally."
"Escudero said the COVID-19 situation in Madrid was stabilising and added regional authorities were still open to dialogue with the central government," Reuters explained. 
Market implications
Such headlines go into the mix that has started to fray the bullish prospects for the euro.
More on this here: EUR/USD bullish prospects are fraying and the US dollar is on the verge of 'Wave-5'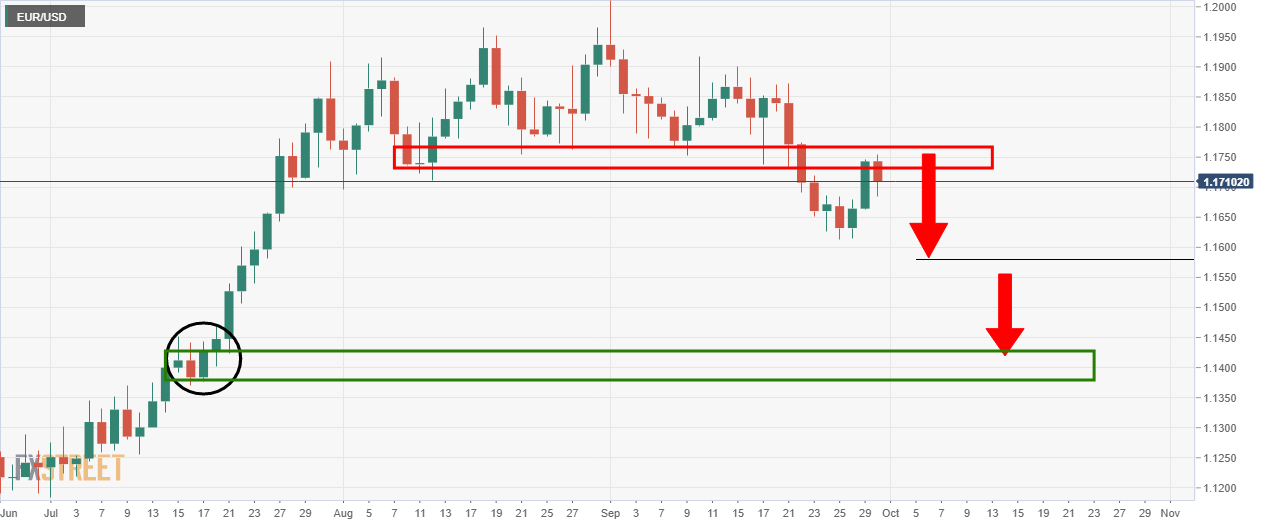 In the above chart, the euro is under pressure at resistance and there are prospects to the downside vs the greenback the more the bulls fail at this critical zone. 
El índice S&P 500 subió más del 1% el miércoles.
Duke Energy Corp (DUK: NYSE) tiene el mejor desempeño del día.
Micron Technology Inc (MU: NASDAQ) cae abruptamente por recortes de precios objetivo.
El índice S&P 500 (SPX) comenzó el último día de septiembre en territorio positivo y mantuvo su impulso alcista gracias a un renovado optimismo de estímulo. Al momento de escribir, el SPX subió 1.15 en el día a 3.373. Sin embargo, el índice ha bajado actualmente un 3.66% en septiembre y sigue en camino de romper su racha ganadora de cinco meses.
Principales cambios del S&P 500
Horas antes, los informes que sugerían que el productor de energía NextEra Energy Inc hizo una oferta de adquisición a Duke Energy Corp (DUK: NYSE) proporcionaron un impulso a las acciones de la compañía energética. Por el momento, DUK ha subido un 7.1% en el día a $88.50 como el porcentaje de ganancia superior del día.
Las acciones de Universal Health Services Inc (UHS: NYSE), Discover Financial Services (DFS: NYSE) y Centene Corp (CNC: NYSE) se encuentran entre las otras acciones con mejor desempeño del día, subiendo 4.9%, 4.75% y 4.7%, respectivamente.
Por otro lado, las acciones de Micron Technology Inc (MU: NASDAQ) están sufriendo pérdidas después de que el fabricante de chips anunció que espera que los ingresos fiscales del primer trimestre estén ligeramente por debajo de las estimaciones, citando la prohibición estadounidense de los envíos de chips de memoria de Huawei.
Como resultado, Deutsche Bank, UBS, Needham, RBC y Cowen and Company anunciaron recortes de precio objetivo para CU, que actualmente ha bajado un 6.3% a $47.51.
USD/JPY has fallen 0.14% on Wednesday despite a nice move higher last week.
There could be some sideways movement to come now as the price is stuck between two levels.
USD/JPY 4-hour chart
USD/JPY has moved back into the middle of a very congested area and met some offers. The pair is normally correlated to the risk environment and at the moment stocks are very mixed. This is due to the fact that there is an upcoming US election and the White House is struggling to put together a stimulus bill. This Friday, things could get pretty volatile as the market will get the latest non-farm payroll figures and the pair is likely to stay pretty static until then. 
The chart shows how strong the black line at 105.80 is. This is the key area within the consolidation as the price reacted around the zone at least nine times on the chart alone. The level now in focus is the support level at 105.20 if this level is broken then there could be a more sustained move to the downside. 
The indicators will now be back in their familiar mid-zones as the market had been in a sideways consolidation for some time before the move lower towards 104.00. If anything they are slightly bearish as the MACD histogram is red and the Relative Strength Index is moving towards 50 again. Overall, it seems we need another shake out and much will depend on the data towards the end of the week.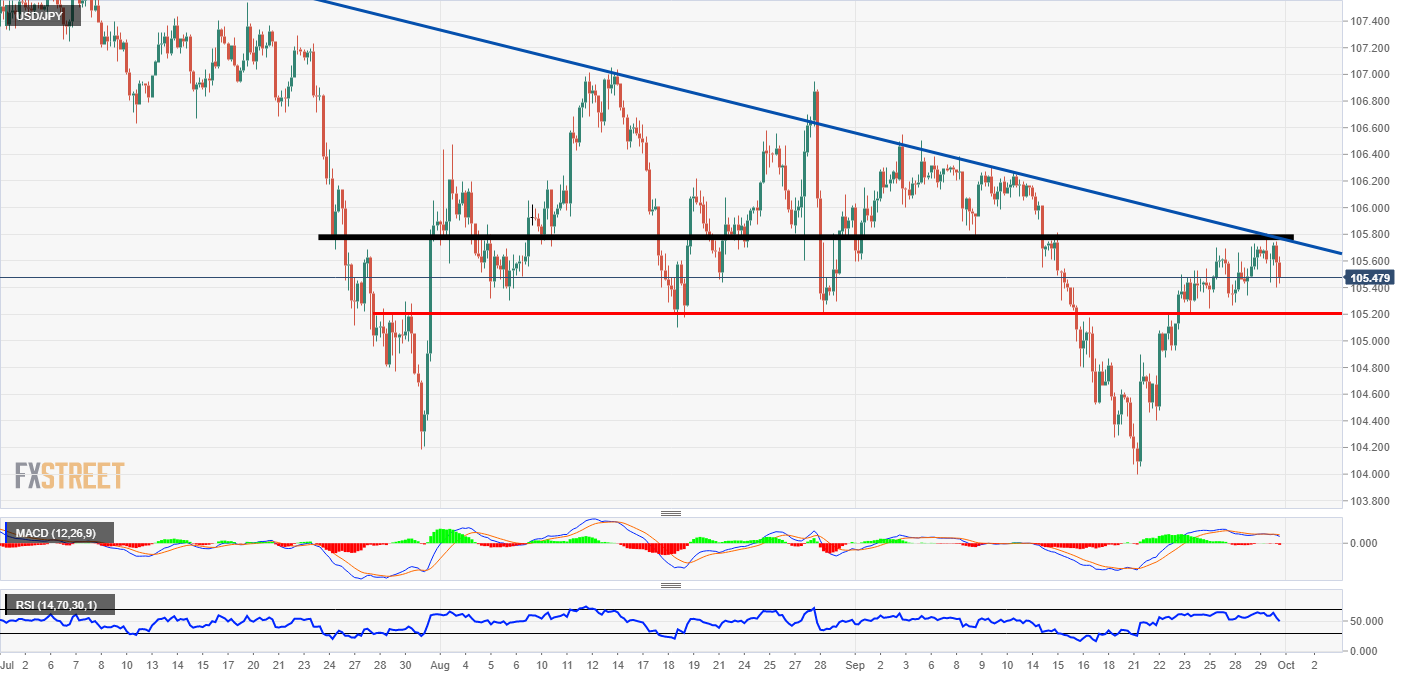 Additional levels
NZD/USD meets a critical resistance confluence area, bulls need to be vigilant.
The US dollar has stepped into a demand zone which could ignite the next bullish wave and bearish trend in the Kiwi. 
NZD/USD is trading at 0.6616 between a low of 0.6569 and a high of 0.6626, some 0.5% higher on the session. 
NZD/USD has had a good run of late, recovering a notable chunk of the mid-September sell-off from 0.6511 to the aforementioned high for today. 
However, the US dollar has been in the driving seat, either steering its own downside or navigating the upside. 
One way or the other, the Kiwi has played second fiddle to the more dominate dollar bloc theme pertaining to the US economy and elections as well as the rampant spread of COVID throughout Europe.  
Meanwhile, analysts at ANZ bank explained that the local drivers of the NZD are well-known: 
"Very easy monetary policy and the promise of more to come, low and flat yield curves, but a gold standard COVID-19 response and commodity prices holding up. 
Against that, we have election uncertainty in both countries. All told, we expect continued trading around our central forecast of 0.65 for the next few quarters.
We are more neutral on the NZD as a more active RBNZ remains focussed on its level, so we are bullish on the AUD/NZD cross. "
Staying with the dollar, there are indeed arguments for both sides of the story.
On one hand, there are plenty of risks that could create demand for the greenback once again, despite there being huge amounts of central bank liquidity since
March's intervention from the Federal Reserve to free-up swap-lines during the shortage crisis. 
However, the US Presidential Elections is going to be problematic for the dollar bulls if the dollar's track record of weakness into the election is something to go by. 
For the FX market, analysts at ANZ, however, explained that rather than the outcome of the presidential race itself, "we think the important factor is how aligned the houses will be and how easy it will be for legislation, particularly around fiscal spending, to be passed.
"On this front, the analysts said that the odds don't look great for the USD, "with both of the most likely scenarios likely to lead to USD weakness regardless of who wins the presidency."NZD/USD technical analysis
NZD/USD technical analysis
Month/quarter-end fixing and rebalancing flows make for a complicated mix for the forex space, but the path of the US dollar has stayed consistent within a 5-wave technical pattern:


If this plays out, then the dollar bloc weakness will weigh on the kiwi. 
However, when looking to the NZD/USD chart, there are bullish conditions prevailing which are confirming the following analysis from yesterday:
NZD/USD Price Analysis: Bulls set on at least a 38.2% Fibonacci retracement

On the other hand, the resistance could prove a tough nut to crack and bulls would be prudent to sit on the sidelines and wait for a break of the resistance for confirmation that there is more to come in this current correction.
After all, a 38.2% Fibonacci retracement meeting with resistance is significant and sufficient for the start of a potential fresh impulse to the downside, in sequence to a 5th-wave to the upside in the DXY.
In a CNBC interview, the Fed'eral Reserve's Daly said the US economy is not out of the woods, needs more fiscal support.
Daly adds that the unemployment rate is an 'overused' measure, in a very 'big ditch' on the labour market.
Daly says epidemiologists tell her to expect vaccine or therapeutics by middle of 2021, that's factored into her forecast.
More to come…