The Dow Jones Industrial Average climbed 373.71 points, or 1.39%, to 27,202.18.
 S&P 500 added 21.52 points, or 0.65%, to 3,328.03.
 Nasdaq Composite put on 58.22 points, or 0.53%, to 10,999.39.
US benchmarks nevermind the deadlock in Congress and climbed on Wednesday on investor optimism despite worsening prospects of a v-shaped recover on-shore.
The Dow Jones Industrial Average climbed 373.71 points, or 1.39%, to 27,202.18, the S&P 500 added 21.52 points, or 0.65%, to 3,328.03 and the Nasdaq Composite put on 58.22 points, or 0.53%, to 10,999.39.
In corporate updates, there were surprise quarterly profits from Disney which sent Walt Disney Co's DIS shares flying to put it among the biggest boosts to the S&P 5 and Dow.
The stock notched its biggest daily percentage gain since March 24 as declines for Disney parks and media networks were not as bad as feared.
Meanwhile, there have still not been any concrete reports of what the anticipated fiscal package will contain with the Democrats and Republicans at odds over extending the supplementary USD600/week unemployment support.
Meanwhile, the July ADP job gains of 167k were much lower than expected (+1.2m) and indicated a sudden halt to re-hiring as result of renewed restrictions in the US.
It is a concern and increases pressure for additional fiscal measures. This print will affect expectations for non-farm payrolls on Friday, but confidence in the ADPs signal may be coming under scrutiny given two huge revisions to data for May and June,
analysts at ANZ bank explained.
S&P 500 levels
The price of gold has galloped ahead in the $2,000's to a high of $2,055.71 on Wednesday in the US session. 
However, a bearish pattern has emerged in the form of a bearish head and shoulders on the hourly time frame.
While gold had started to show signs of consolidation, continued weakness in the USD, a break below -1% in 10yr real rates and signaling that the Fed is weighing the abandoning of preemptive rate moves have combined to see the yellow metal break higher,
analysts at TD Securities argued.
But, we caution the yellow metal is still running hot relative to these observable drivers.
Hourly chart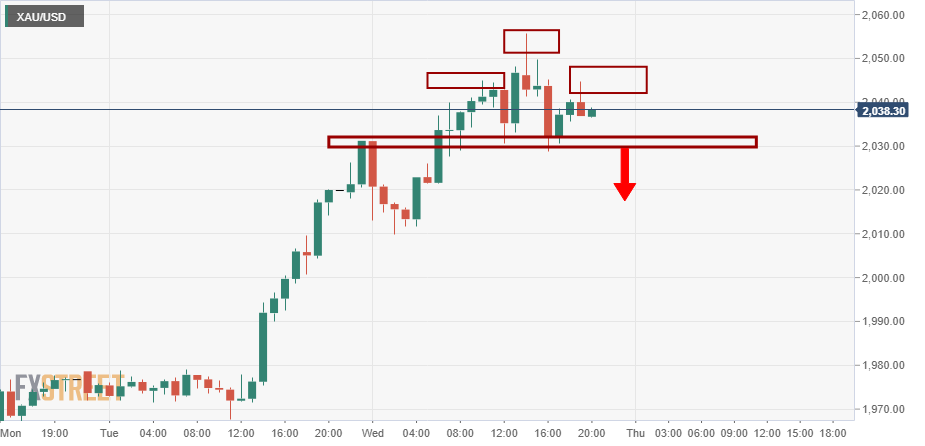 In further explanation of their caution over chasing this ride higher, the analysts continued,
While positioning is not overly stretched, it is certainly at the higher end of the range, and the trade is very much consensus, suggesting excess retail speculation and momentum could be contributing to the most recent leg of the rally.

As such, we think the nature of the rally continues to warrant caution as it leaves the yellow metal at risk of consolidating lower before a true breakout.

On the industrial side, silver continues to outperform gold, seeing the ratio fall back to five-year average levels.
Here is what you need to know on Thursday, August 6:
Dollar's sell-off continued. A poor ADP survey that showed that the private sector added just 167K new jobs in July added pressure on the American currency. The ISM Services PMI surprised to the upside, but investors ignored the headline as the employment sub-component was weak.  Meanwhile, the US Congress continues to discuss the next aid package, without reaching an agreement just yet.
High-yielding EUR, GBP and AUD flirted with their recent multi-month highs on the back of dollar's weakness, but there was no follow-through, easing just modestly ahead of Wall Street close.
Equities closed with gains, while government bond yields bounced a bit from their recent lows, preventing the USD/JPY pair from collapsing.
USD/CAD plunged in a mixture of encouraging Canadian data and rising oil prices, with WTI reaching $43.50 a barrel. The US EIA stockpiles report showed that stockpiles were down by 7.37 million in the week ended July 31.
Gold prices soared, hitting fresh all-time highs. Spot gold traded as high as $2055.69 a troy ounce.
Cryptocurrency Market News: India is looking to ban Bitcoin yet again
EUR/JPY is trading 0.41% higher on Wednesday and looks to be heading to the next resistance.
Prior to this week, the price has risen three weeks in a row. 
EUR/JPY weekly chart
EUR/JPY has pushed 9.68% higher since hitting 1.1442 on 6th May. In this time the EUR has performed well against most of its major counterparts. Now the price could be heading to the major resistance zone at 126.00. This is just below the red line on the chart and as you can see there has been at least four major touches of that zone. 
If the price does move beyond the red resistance zone the black downward sloping trendline could be the next important zone. The trendline has been in place since 2018 when the two wave peaks had been connected. If the price does move lower then the psychological 125.00 area could be a near term support level to look out for. 
The indicators are looking positive as the price has moved higher. The MACD histogram is green and the signal lines are above the zero line. The Relative Strength Index is also looking positive and continues to hold above the 50 line. There is still space the move to the oversold area which is a positive sign.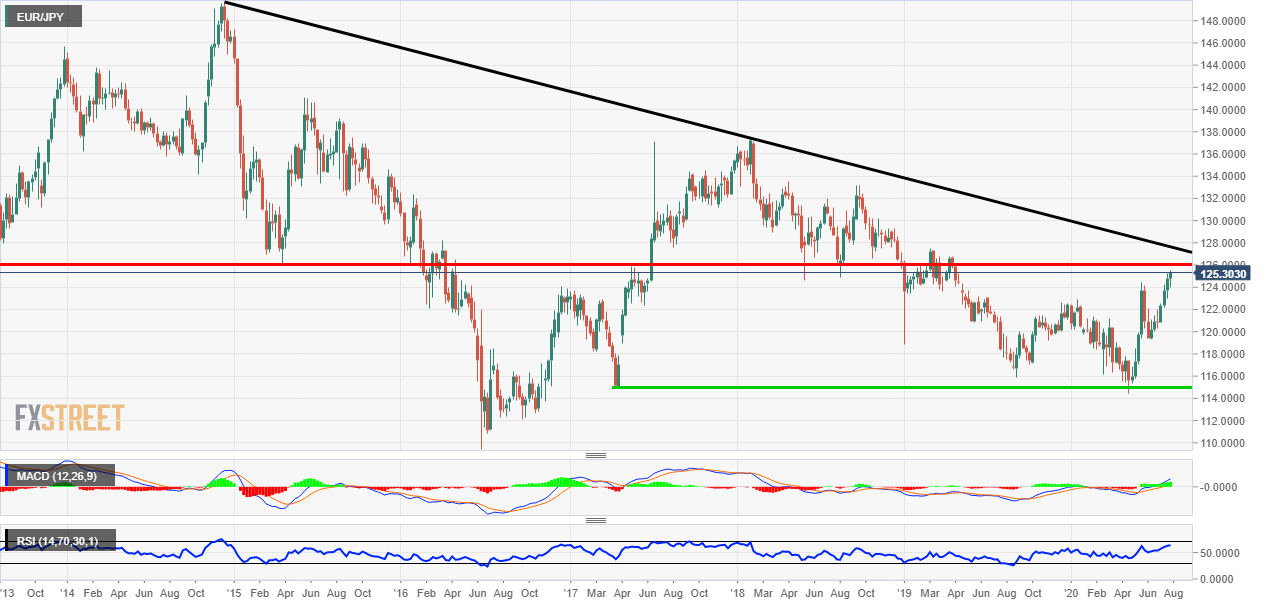 Additional levels
US Secretary of state Pompeo is speaking in a press conference and has said that he will seek to extend the Iran arms embargo.
Here is some background to the context:
Today at 3:45 p.m. EDT, Secretary Mike Pompeo delivering remarks
US Secretary of State Pompeo: We are working to limit Chinese cloud providers.
US Secretary of State Pompeo urges US app stores to bar untrusted Chinese apps.
Market implications
Risk-off could favour the yen while there is less love for the greenback at this time:
USD/JPY Price Analysis: Bulls step into the bear's layer
Today at 3:45 p.m. EDT, Secretary Mike Pompeo, China hawk, will deliver remarks to the media. 
His remarks will come at a very sensitive time between the US ad China, so markets will be tuned in listening for hawkishness with regards to the US relations with China.
Pompeo's comments today will come within days after Mr Trump said he was banning Chinese software, TikTok, in the US.
The company has denied accusations that it is controlled by or shares data with the Chinese government.
Speaking to Fox News Channel, Pompeo said the action would be taken "with respect to a broad array of national security risks that are presented by software connected to the Chinese Communist Party".
Microsoft to continue talks to buy TikTok, for which Pompeo has referred to when suggesting that there are "countless" companies doing business in the US that might be passing information on to the Chinese government. Data could include facial recognition patterns, addresses, phone numbers and contacts, he said.
"President Trump has said 'enough' and we're going to fix it," he told Fox News in a recent interview.
China and Iran relations
Pompeo has also recently warned that china would destabilize the Middle East by deepening ties with US foe Iran, suggesting China and Iran were close to finalizing a 25-year trade and military agreement known as a "comprehensive strategic partnership." 
"China's entry into Iran will destabilize the Middle East. It'll put Israel at risk. It'll put the Kingdom of Saudi Arabia and the Emirates at risk as well," Pompeo told Fox News this weekend.
"Iran remains the world's largest state sponsor of terror, and to have access to weapons systems and commerce and money flowing from the Chinese Communist Party only compounds that risk for that region," Pompeo added. 
Market implications
Risk-off could favour the yen while there is no love for the greenback at this time:
USD/JPY Price Analysis: Bulls step into the bear's layer
Los precios del crudo subieron debido a los optimistas datos de Estados Unidos el miércoles.
La fuerte caída en las existencias de petróleo crudo de los Estados Unidos impulsó el WTI.
El foco cambia a los datos comerciales de China, informe de NFP de EE.UU.
Los precios del crudo subieron por cuarto día consecutivo el miércoles y el barril de West Texas Intermediate (WTI) alcanzó su nivel más alto desde principios de marzo a $43.50. Aunque el WTI descendió a fines de la sesión estadounidense, se estableció en $42.20 con una ganancia diaria de 1.18%, o 49 centavos.
Los datos de Estados Unidos elevaron los precios del crudo el miércoles
Más temprano en el día, los datos publicados por el ISM mostraron que la actividad económica en el sector de servicios de los EE.UU. se expandió a un ritmo fuerte en julio con el PMI de Servicios de ISM que aumentó de 57.1 en junio a 58.1. Este informe revivió las esperanzas de una recuperación constante en la demanda de energía y ayudó al WTI a aumentar.
Además, el informe semanal de la Administración de Información de Energía de EE.UU. reveló que las existencias de petróleo crudo disminuyeron en 7.3 millones de barriles en la semana que terminó el 31 de julio y proporcionaron un impulso adicional a los precios del petróleo crudo.
Mientras tanto, la presión de venta de base amplia que rodea al dólar permitió que el impulso alcista del WTI permaneciera intacto durante todo el día.
El viernes, los datos de la balanza comercial se presentarán en la agenda económica china. Los inversores prestarán atención a las cifras de importación de petróleo del segundo mayor consumidor mundial de petróleo. Más adelante en el día, los participantes del mercado también observarán de cerca el informe de Nóminas No Agrícolas (NFP) de la Oficina de Estadísticas Laborales de EE.UU.
Niveles técnicos